Josiah Lincoln
was born
10 July
1765
in
Bridgewater
,
Rockingham County
,
Virginia
to
Abraham Lincoln (1744-1786)
and
Bathsheba Herring (c1742-1836)
and died
19 September
1835
in
Depauw
,
Harrison County
,
Indiana
of unspecified causes. He married
Katherine Barlow (1774-1817)
26 February 1801 in
Springfield
,
Washington County
,
Kentucky
. Ancestors are from the
United States
.
Biography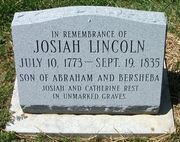 Josiah Lincoln was the uncle to US President Abraham Lincoln (1809-1865) and much of what we know about him comes from the many historical studies done on his nephew.
He was born in Virginia and at a very young age his family moved to Kentucky following frontiersman Daniel Boone (1734-1820). About 1890 his family moved to Washington County, Kentucky.
At the end of the War of 1812, much of Indiana territory became available for settlement and in 1816, Josiah headed there with some siblings and cousins following suit. He eventually settled in Harrison County, Indiana.
He became a farmer and President Lincoln wrote the following about Josiah and the family line: "I knew Mordecai and Josiah Lincoln intimately. They were excellent men, plain, moderately educated, candid in their manners and intercourse and looked upon as honorable as any men I have heard of". (Letter of Henry Pittle, June 17, 1865; see "Herndon's Life of Abraham Lincoln, Vol. I, p 7.)
Burial
Burial: Blue River Church of Christ Cemetery, DePauw, IN
Children
Siblings
Offspring of Abraham Lincoln and Bathsheba Herring (c1742-1836)
Name
Birth
Death
Joined with


Mordcai Lincoln (1771-1830)
1771 Augusta County, Virginia
1830 Fountain Green, Hancock County, Illinois
Mary Mudd (1775-1859)


Josiah Lincoln (1773-1835)
10 July 1765 Bridgewater, Rockingham County, Virginia
19 September 1835 Depauw, Harrison County, Indiana
Katherine Barlow (1774-1817)


Thomas Lincoln (1778-1851)
6 January 1778 Rockingham County, Virginia, United States
17 January 1851 Coles County, Illinois, United States
Nancy Hanks (1784-1818)
Sarah Bush (1788-1869)


Nancy Lincoln (1780-1845)
25 March 1780 Elizabethtown, Hardin County, Kentucky
9 October 1843 Hardin County, Kentucky
William Brumfield (1778-1858)


Mary Ada Lincoln (1775-1832)
20 January 1775 Linville, Rockingham County, Virginia
1832 Fairfield, Breckinridge County, Kentucky
Daniel Edgar Crume (1758-1824)
Ralph Crume (1779-1832)

References
Residences
Footnotes (including sources)
Contributors
Community content is available under
CC-BY-SA
unless otherwise noted.