Joseph Tainter was born 24 April 1613 in Upton Gray, Southampton, England and died 20 February 1690 Watertown, Middlesex County, Massachusetts of unspecified causes. He married Mary Aires (1619-1705) 1642 in Watertown, Middlesex County, Massachusetts.
Biography
Watertown Founders Monument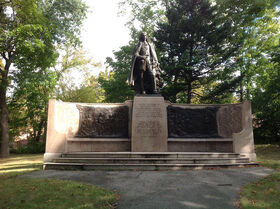 He is listed on Watertown Founders Monument, commemorating the first settlers of Watertown, Massachusetts. The town was first known as Saltonstall Plantation, one of the earliest of the Massachusetts Bay Colony settlements. Founded in early 1630 by a group of settlers led by Richard Saltonstall and George Phillips, it was officially incorporated that same year. The alternate spelling "Waterton" is seen in some early documents.
Marriage and Family
From NEHGS, website: www.americanancestors.org, The American Genealogist, vol. 65, pg. 21 - 23:
Joseph Tainter has been claimed many times as husband of Mary Guy, daughter of Nicholas Guy; but, as shown in the Appendix above, he must have been son of Nicholas' wife Jane by an earlier husband. This leaves Joseph's wife Mary unidentified. Joseph apparently obtained the twelfth farm by prevailing in a family feud with Ephraim Curtis, son of his sister Mary (Tainter) Curtis. We have already seen Joseph Tainter associated with the Eire family on two previous occasions, when he administered the estate of Thomas Eire, and as occupant of the land of Simon Eire in 1658. Furthermore, Joseph Tainter was, along with Anthony Stoddard, husband of Christian Eire, named an executor of the estate of William Paine. Perhaps most telling is the array of names given by Joseph Tainter and his wife Mary to their children. Aside from the obvious names of Joseph and Mary, they named their other seven children Ann, Rebecca, Benjamin, Jonathan, Sarah, Simon, and Dorothy. Every one of those names corresponds to one of the children of Simon and Dorothy (Paine) Eire, and the last two are especially diagnostic. Thus, we propose that Mary, the eldest daughter of Simon Eire, married about 1642, Joseph Tainter. [1]
Children
Siblings
References
Residences
Footnotes (including sources)