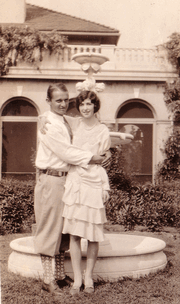 Joseph Lowe (1903-1979) aka Joe Lowe, House Painter (b. September 09, 1903, Cortland, Westchester County, New York, USA - d. August 27, 1979, Shining Tides, Briar Springs Lane, East Orleans, Cape Cod, Massachusetts, USA) Social Security Number 080070577.
Joe was born in 1903 to Ira Lowe (c1873-bef1910) of Austria; and Anna Lillian Lindauer (1873-1956) of New York.
In 1910 Joe and his mother, now a widow were living at 209 Locust Avenue in Rye, Westchester County, New York with Anna's parents. In 1929 Joe was engaged to marry a pretty woman who is labeled in the family pictures as his fiance.
At some point Joe married Mary Buchman (1903-1972) who had previously been married to Max Friese. When Max died Mary inherited some money, and a house on Cape Cod, where Joe eventually lived until 1979.
Whether he died in Rye, New York or Cape Cod, Massachusetts will be settled when his death certificate is located. He had no children.
Joe and Mary are buried at Grave 1, Section Rockmont 9C at Greenwood Union Cemetery, Rye, New York.
Community content is available under
CC-BY-SA
unless otherwise noted.