Veteran, U.S. Army, War of 1812
1820-21: Senator Indiana State House of Representatives
Biography
Sen. Joseph Hanna was born 16 October 1772 in Laurens County, South Carolina, United States to Robert Hanna (1744-1821) and Mary Catherine Parks (1748-1834) and died 26 November 1849 Delphi, Carroll County, Indiana, United States of unspecified causes. He married Sarah Adair (1775-1855) 1790 in Hopkins County, Kentucky, Kentucky.
Joseph Hanna (1772-1849) — of Franklin County, Ind. Brother of Robert Hanna and David Graem Hanna; father of Albert G. Hanna; uncle of James McLean Hanna. Served in the U.S. Army during the War of 1812; member of Indiana state house of representatives, 1820-21. Died in Carroll County, Ind., November 26, 1849. Burial location unknown.
Mary Ann Hanna (1794-1846)
Rebecca Hanna (1797-1873)
John Hanna (1799-1862)
Robert Goodloe Harper Hanna (1799-1853)
George Ross Hanna (1803-1882)
Jane Hanna (1804-1859)
Albert Galatin Hanna (1807-1875) - member Indiana House of Representatives
Joseph Washington Hanna (1809-1890)
Oliver Hazard Perry Hanna (1813-1880)
Children
Siblings
Residences
Vital Records
Delphi Gravestone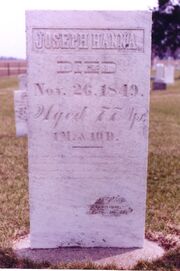 Location: Zion Citizens Cemetery, Carroll County, Indiana Inscription: DIED JOSEPH HANNA Nov.26.1849 AGED 77 YRS 1 M. & 10 D.
See Also
Footnotes (including sources)
Community content is available under
CC-BY-SA
unless otherwise noted.