Lt. Joseph Bingham, Sr.
was born
4 June
1709
in
Norwich
,
New London County
,
Connecticut
to
Thomas Bingham (1667-1720)
and
Hannah Backus (1676-1752)
and died
4 November
1787
in
Bennington
,
Bennington County
,
Vermont
,
United States
of unspecified causes. He married
Ruth Post (1711-1796)
25 November 1731 in
Connecticut
. Ancestors are from the
United Kingdom
.
Biography
Joseph Bingham the youngest son of Sergeant Thomas Bingham was born at Norwich on June 4, 1709. He married Ruth Post on November 25, 1731. He was First Lieutenant, Third Company, Fourth Regiment under Major John Durkee in 1759. He lived at Norwick until the end of the Indian wars, when he went to Bennington, Vermont to spend his last days with his sons Jeremiah and Calvin.
He served in the French & Indian war under Capt William Whiting with the Third Company under Regt commander Col Elihu Chauncey. He served under Maj John Durkee in 1758 with Ninth Company under Regt commander Col Fitch & Capt Eleazer.
Deacon Joseph was possessed of uncommon muscular strength and very quick. He was 6 feet 2 inches tall, and had an indomitable will, great piety and benevolence. His sons' farm was two miles from Bennington, and he fought in the battle of Bennington on Saturday, August 16, 1777.
He died at Bennington, November 4, 1787.
Children
Siblings
Vital Records
Bennington Gravestone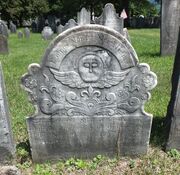 References
Residences
Footnotes (including sources)
Contributors