Biography
Lt. John Weed Sr.
was born circa
1627
in
England
to
Jonas Weed (1575-1676)
and
Mary Jane Davidson (1580-)
and died
15 March
1689
in
Amesbury
,
Essex County
,
Massachusetts
of unspecified causes. He married
Deborah Winsley (1629-1695)
14 November 1615 in
Salisbury
,
Essex County
,
Massachusetts
.
",42.858" can not be assigned to a declared number type with value 42.858.

Lieut. John Weed was among the original settlers of Amesbury in 1654-55, and received various grant there between 1654 and 1664. [1]
Below are verbatim excerpts from "Richard Smith of Wethersfield [Connecticut]," The American Genealogist, Volume 25 [1949]: pages 126-127:
Richard-2 Smith, born in England, about 1617, died at Wethersfield (the part now Glastonbury), June 1690; married Mary Weed, born in England, about 1618, died at Glastonbury, 7 May 1704, age about 86 (gravestone).
Winthrop's Medical Journal in 1668 mentions Mary wife of Richard Smith Jr., of Wethersfield; also John Weed "50 years of Salsbury [sic] in Massachusett [sic] brother to Richard Smith Junior his wife of Hockanum."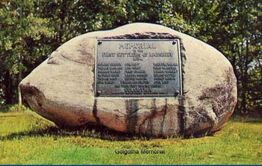 In 1640, the first Puritan settlers arrived to Amesbury, Massachusetts; their first burying ground was on a hill overlooking the Powow River, now referred to as Golgotha. The grave stones or markers in this first burying ground have long since disappeared, along with the identity of the people buried here. In 1903, the Amesbury Founders Memorial was erected by the Amesbury Improvement Association, to mark the site of Amesbury's first burying ground.
1) Planter. (1) 1650: Commoner. Taxed in Salisbury. (1) 1654: Received land in Salisbury. (1) 1654/5: One of the original settlers in Amesbury. (1) 1654-1664: Received land in Amesbury. (1) 1660: [Granted a?] "Township" for one of his sons. (1) 1667: Had a meeting house seat, Amesbury. Also Goodwife WEED had a meeting house seat. (1) 1677: Took oath of allegiance. (1) 1680: Signed a petition. (1) 1689/90, 21 Mar: Inventory taken of his estate. (1) 1690, 24 Jun: Administration of estate.
John Weed bought land in Stamford CT from Elias Bayley April 20, 1657. John and his brother Daniel also bought house and land from Joseph Mead in 1658.
He was a member of (had a seat at) the Amesbury meeting house, along with his wife, in 1667 in Amesbury, Essex Co., Massachusetts. He died on March 15, 1688/89 in Amesbury, Essex Co., Massachusetts. He was a planter.
Children
Siblings
Residences
See Also
Footnotes (including sources)
Contributors
Cite error: <ref> tags exist, but no <references/> tag was found
Community content is available under
CC-BY-SA
unless otherwise noted.