John Reynolds was born 1 May 1612 in Ipswich, Suffolk, England to George Reynolds (1555-1634) and Thomasyn Church (1566-1634) and died 18 July 1641 Stamford, Fairfield County, Connecticut of unspecified causes. He married Sarah Chesterton (c1614-) 1630 in Boxted, Suffolk, England.
Biography
John Reynolds was born abt. 1612 in Boxford, Suffolk, England, and died aft. 1651 in Stamford, Connecticut. [1]
1630 Winthrop Fleet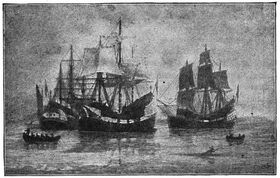 He was a passenger on the in the Winthrop Fleet in 1630, part of The Great Migration. It was the largest fleet ever assembled to carry Englishmen overseas to a new homeland. It was a well planned and financed expedition comprising eleven ships that carried 700 immigrants from England to the Massachusetts Bay Colony. The group, led by Governor John Winthrop, sailed from April to July of 1630. The fleet landed at Salem. Of the 700 on board, 200 died during the voyage, and 100 returned to England soon after arrival. Some of the 400 remaining settlers stayed in Salem, but many moved on to Boston, Watertown, or other settlements.
Other historical records reveal [John & Sarah] to be part of the Winthrop fleet, many of which emigrated from the area around Grafton and Boxford, in Suffolk, England.
Watertown Founders Monument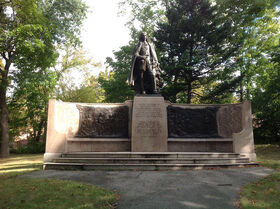 He is listed on Watertown Founders Monument, commemorating the first settlers of Watertown, Massachusetts. The town was first known as Saltonstall Plantation, one of the earliest of the Massachusetts Bay Colony settlements. Founded in early 1630 by a group of settlers led by Richard Saltonstall and George Phillips, it was officially incorporated that same year. The alternate spelling "Waterton" is seen in some early documents.
John's name is noted on the monument to the original settlers of Watertown, Mass., to have arrived in 1630 with Governor Saltonstall. His name is included with the original 60 other settlers listed on that monument.
He was admitted as a "Freeman", of Watertown, suggesting he may have been indentured. In 1636, he removed with several other settlers, including Robert Reynolds (probably his brother [whose name is NOT on the monument of the original settlers]), to Weathersfield, Connecticut. The site of his home is noted on the early maps of that town. He is not to be confused with another John Reynolds, who arrived some time later, and was married to a Naomi Latimer.
Marriage and Family
Elizabeth (1634-1702) m. Peter Ferris
Jonathan (1636-1673) m. Rebecca Heusted
John (1638-1702) m. Juda Palmer
David (1640-?)
Children
Siblings
References
Residences
Footnotes (including sources)
Community content is available under
CC-BY-SA
unless otherwise noted.