John Olmstead was born circa 1616 in Fairstead, Essex, England to Richard Olmstead (1579-1641) and Frances Slany (1587-1630) and died 2 August 1686 Norwich, New London County, Connecticut of unspecified causes.
Biography
First Founder of Hartford CT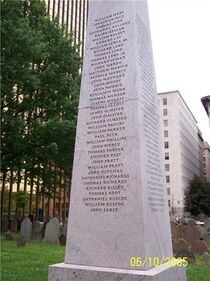 He is listed as one of the first settlers on the Hartford Founders Monument. In 1633, the purtian preacher, Thomas Hooker (1586-1647) revolted against the authority of the English Church, and was forced to sail to America on the ship Griffin with many of his followers.
Finding that place to crowded they moved to the Connecticut River Valley, settling down north of the Dutch Territory in 1636. Here in 1638 they wrote the first constitution in America to create the new Colony of Connecticut (for which they retain their nickname as the Constitution State. Their central city is Hartford CT.
Siblings
References
Residences
Footnotes (including sources)