Rev. John Norton was born 1650 in Massachusetts to William Norton (1610-1694) and Lucy Downing (1621-1698) and died 3 October 1716 Hingham, Plymouth County, Massachusetts of unspecified causes. He married Mary Mason (c1651-1740) 29 November 1678 in Hingham, Plymouth County, Massachusetts.
Biography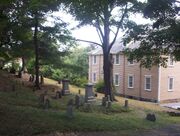 Rev. John Norton was educated at Harvard and ordained by Peter Hobart on Nov 27, 1678. He assumed Rev. Hobart's ministry at the Old Ship Church as the second minister of the church, remaining active in church ministry at Hingham, Massachusetts for nearly thirty-eight years until his death in 1716. John was replaced by Rev. Ebenezer Gay. The "Tomb of the Three Ministers" at Hingham Cemetery contains the remains of these first three ministers. John died in his 66th year.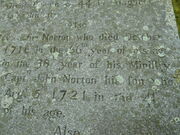 Children
Siblings
References
Residences
Footnotes (including sources)
Community content is available under
CC-BY-SA
unless otherwise noted.