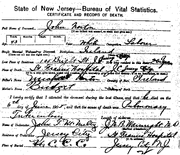 John Norton (1861-1905) was an immigrant from Ireland to the United States that worked as laborer. He died of tuberculosis in 1905, the same year as his brother died. (b. November 1861, County Galway, Ireland - d. June 06, 1905, Jersey City, Hudson County, New Jersey, USA)
John was born in County Galway, Ireland.
Patrick and John probably emigrated from Ireland in 1882 and arrived in Boston, Massachusetts where Patrick was naturalized.
In 1890 both John and Patrick were living at 163 Bright Street in Jersey City. John was working as a bartender and Patrick as a fireman on the railroad. A railroad fireman was the man who added the coal to the steam boiler. In 1900 John was living at 101 Bright Street in Jersey City with his brother and his brother's wife and he was working as a day laborer on the railroad.
John never married and he died in 1905 of pulmonary tuberculosis at Saint Francis Hospital, Jersey City, New Jersey.
Mass was held at Saint Bridget's Parish, Jersey City, New Jersey and he was buried at Holy Name Cemetery, Jersey City, New Jersey with:
His funeral notice appeared in the Evening Journal on Wednesday, June 07, 1905 an it reads as follows:
Norton - On Wednesday, June 7, 1905 [sic], John Norton. Relatives and friends are requested to attend his funeral from the residence of his brother, Patrick Norton, 101 Bright Street, on Friday, June 9, at 9 a.m.; thence to St. Bridget's Church, where a high mass of requiem will be offered for the happy repose of his soul.
His brother, Patrick J. Norton, died on October 9, 1905, just four months after John died. Patrick died of "pyronephritic septisemia".
Community content is available under
CC-BY-SA
unless otherwise noted.