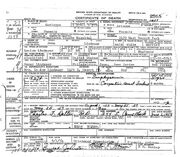 John Howard Lindauer I (1904-1954) worked as a radio engineer in 1930 and later a television engineer for RCA (b. August 12, 1904, Jersey City, Hudson County, New Jersey, USA - d. May 29, 1954, 1:00 p.m., Maricopa County Hospital, Phoenix, Maricopa County, Arizona, USA) Social Security Number 137018243.
John was born on August 12, 1904 in Jersey City, Hudson County, New Jersey.
John appears in the 1930 US Census working as a radio engineer. He later was an early engineer for television.
He married Louise Horton Platts (1910-2004) around 1935. She was the daughter of Howard Carleton Platts and Irene Grace Horton. Together they had three children.
Around 1945-1946 he was diagnosed with emphysema. He moved to Arizona because of his emphysema around 1949. They lived at 1429 East Desert Park in Phoenix.
He died on May 29, 1954 in Phoenix, Maricopa County, Arizona of "emphysema and congestive heart failure". He had had his emphysema for 8 years, and his congestive heart failure for 6 months. John's death certificate states that his father was born in Philadelphia, but that is incorrect. John's grandfather, John Jacob Lindauer, was born in Philadelphia. The death certificate also lists his mother's name as "Corder" which is a phonetic spelling of the correct "Courter".
He was cremated at Greenwood Crematorium in Phoenix on June 1, 1954. His ashes were buried in Phoenix, Arizona. When his widow died his ashes were disinterred, and her ashes were mixed with his and they were scattered in Phoenix on a small mountain at the end of their last home together, on Desert Park..
She married Walter Likosar (1911-1999). Walter died in 1999 in Phoenix, Maricopa County, Arizona.
Community content is available under
CC-BY-SA
unless otherwise noted.