John Edward Winblad II (1897-1899)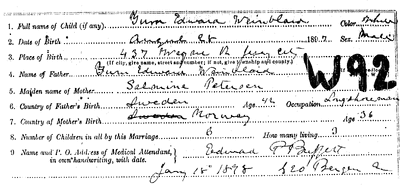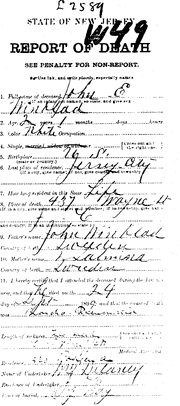 John Edward Winblad II (1897-1899) aka Eddie Winblad. He died as a toddle of "bronchio pneumonia" following a bout of pertussis after attending a neighbors birthday party, where that child was sick. He was 2 years, 0 months, and 27 days old. (b. August 28, 1897, 437 Wayne Street, Jersey City, Hudson County, New Jersey, 07307, USA - d. September 24, 1899, 437 Wayne Street, Jersey City, Hudson County, New Jersey, 07307, USA)
His siblings include: Anton Julius Winblad (1886-1975) aka Tony Winblad; Theodora Winblad (1888) who died as an infant; Mary Winblad (1889) who died as an infant, Otto Edward Winblad (1892); Marie Elizabeth Winblad (1895-1987) aka Mae Winblad, who married Arthur Oscar Freudenberg (1891-1968); and Otto Perry Winblad (1902-1977).
He died on September 24, 1899 of "bronchio pneumonia" at the age of two years and one month, after two weeks of illness. He was 2 years, 0 months, and 27 days old.
He was buried in Bay View in Jersey City, New Jersey.
Memories abour Eddie Winblad
Edit
Maria Elisabeth Winblad II (1895-1987) said in 1986: "We just walked up the street and they had whooping cough there. They never should have let all these children there, they had lemonade. There was no hope for the little girl. ... Eddie went into pneumonia and he died ... He was such a good little fellow."
Maria Winblad, his sister would visit his grave throughout her life and was buried next to him at her own request.
Community content is available under
CC-BY-SA
unless otherwise noted.