John Cooke was born 20 May 1608 in Leiden, Zuid-Holland, Netherlands to Francis Cooke (1583-1663) and Hester Mahieu (1582-1666) and died 23 November 1695 Dartmouth, Bristol County, Massachusetts, United States of unspecified causes. He married Sarah Warren (c1613-1696) 28 March 1634 in Plymouth, Plymouth County, Massachusetts, United States.
Mayflower Pilgram at age 13 with his father and early settler of Plymouth Colony. He is frequently listed in Plymouth records as John Cooke, JR. to distinquish him from another John Cooke who is unrelated.
Vital Statistics
Son of Francis Cooke (1583-1663) and Hester Mahieu
Born 1607 in Leiden Holland
1620 - Voyage to America on Mayflower
28-Mar-1634 - Married to Sarah Warren
23-Nov-1695 - Death in Dartmouth
Biography
John Cooke was baptized at Leiden between January and March 1607/1608.
He became a deacon of the church in Plymouth in the 1630s in the Pilgrim Church. He probably became a Baptist at around the time he was excommunicated from the Seperatists (ca. 1657).
A local deputy of the community as he is listed frequently in Plymouth records for juries and other special assignments.
In 1664, he is granted 20 acres of land in Dartmouth and had other land dealings in the area. In 1666 becomes a deputy for Dartmouth and an advisor in the local defense against the Indians.
Marriage & Family
John married Sarah Warren, daughter of Mayflower passenger Richard Warren, and had five children.
Children
Offspring of John Cooke and Sarah Warren (c1613-1696)
Name
Birth
Death
Joined with

Elizabeth Cooke (1634-1715)




Sarah Cooke (1635-1712)




John Cooke (1637-)




Esther Cooke (1650-1671)




Mary Cooke (1652-1708)




Mercy Cooke (1656-1733)
Siblings
Vital Records
Bradfords Passenger List
In 1651, fellow Pilgrim William Bradford (1590-1657) wrote of him:
"Francis Cooke, and his sone John. But his wife and other children came afterwards."


"Francis Cooke is still living, a very old man, and hath seen his children's children have children. After his wife came over with other of his children; he hath three still living by her, all married and have five children, so their increase is eight. And his son John which came over with him is married, and hath four children living."
Gravestone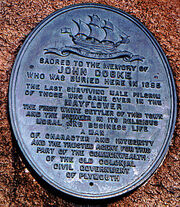 Pilgrim Monument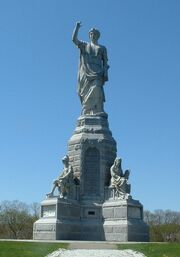 National Monument to the Forefathers, commemorates the Mayflower Pilgrims, (including this person) who came to Plymouth Colony in 1620 on the Mayflower. Dedicated on August 1, 1889, it is thought to be the world's largest solid granite monument. Located on an 11 acre hilltop site on Allerton Street in Plymouth, Massachusetts.
References
Footnotes (including sources)