John Branch
was born
16 June
1628
in
High Holden
,
Kent
,
England
to
Peter Branch (1596-1638)
and
Elisabeth Gillame (1596-1632)
and died
17 May
1711
in
Marshfield
,
Plymouth County
,
Massachusetts
of unspecified causes. He married
Mary Speed (1632-1711)
6 December 1652 in
Marshfield
,
Plymouth County
,
Massachusetts
.
Biography
Edit
John Branch was born in Holden, county Kent, England. He was the only child of Peter Branch and Elizabeth Gillane. John was an orphan at 11 years of age.
John married Mary Speed on December 6, 1652. They had children:
John he died in March 1676
Elizabeth born 14 October 1656 -= she married John Summnes
Peter born 28 May 1659
Thomas born 28 November 1664 - he died 27 January 1683
Mercy born 28 November 1664 - she married Ebenezer Spooner
Remember he died 2 June 1711
Mary she married James Tucker
Anna she married John Blackmer
Experience he married Lydia Foord - he died 14 November 1697
Children
Siblings
Vital Records
Edit
Green Harbor Monument
Edit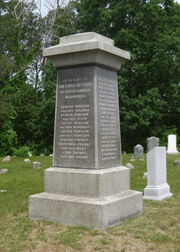 This person is listed in memoriam on the Green Harbor Monument, located in Marshfield, Massachusetts and dedicated in honor of the early colonists from Plymouth Colony who settled this area in the early 1600s.
References
Edit
Residences