John Barker was born 1600 in England to Robert Barker (c1575-) and Catherine Ackworth (c1575-) and died 14 December 1652 Plymouth County, Massachusetts of unspecified causes. He married Anna Williams (c1600-1657) 1635 in Scituate, Plymouth County, Massachusetts.
Biography
[
]
John Barker is the son of Robert & Catherine (Ackworth) Barker. Married Anne Williams between 1632 & 1638 in Scituate MA. Died in the town of Jones in Plymouth Colony. Memorialized on ceneotaph of First Settlers of Marshfield at Old Winslow Cemetery.
Children
Siblings
Vital Records
[
]
Green Harbor Monument
[
]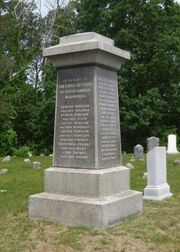 This person is listed in memoriam on the Green Harbor Monument, located in Marshfield, Massachusetts and dedicated in honor of the early colonists from Plymouth Colony who settled this area in the early 1600s.
References
[
]
Residences