John Allerton was born circa 1590 in London, Middlesex, England, United Kingdom to Edward Allerton (1555-1589) and Rose Davis (1556-1596) and died 1621 Plymouth Colony, Plymouth, Plymouth County, Massachusetts, United States of unspecified causes.
Research Notes
A crew member of the Mayflower, John was to return to England to help the rest of the group immigrate but died in the winter, may have been brother of "Pilgrim" Isaac Allerton (1586-1658) and family. He was the 38th of 41 signers of the Mayflower Compact that founded Plymouth Colony.
Leiden, Holland records list the death of a child 21-May-1616 as a son of John Allerton - but connection is unproven.
John Allerton lived in the Pieterskerkhof section of Leiden, same as Isaac Allerton.
Mayflower voyage - during its trans-Atlantic voyage of September 6 - November 9, 1620. Many colonists died during the first winter of 1620/1621.
Pieterskerk Memorial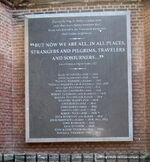 Pieterskerk Pilgrim Memorial located on the great Pieterskerk in Leiden lists this family members who lived died at the Pilgrim settlement here. This place was At one time a center of activity for the over 300 Leiden Pilgrims lived here in the early 1600s after escaping from religious persecution in England.
Children
Siblings
Vital Records
Bradfords Passenger List
From Gov. Bradford's listing of 1620 passengers of the Mayflower:
John Allerton and Thomas Enlish were both hired, the later to goe master of a shalop here and the other was reputed as one of the company, but was to go back (being a seaman) for the help of others behind. But they both died here, before the shipe returned.
Pilgrim Monument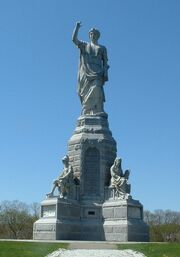 National Monument to the Forefathers, commemorates the Mayflower Pilgrims, (including this person) who came to Plymouth Colony in 1620 on the Mayflower. Dedicated on August 1, 1889, it is thought to be the world's largest solid granite monument. Located on an 11 acre hilltop site on Allerton Street in Plymouth, Massachusetts.
Cole's Hill Memorial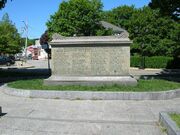 A large monument was erected in 1921 on Cole's Hill in Plymouth, Massachusetts to honor the many pilgrims who came to Plymouth Colony in the Mayflower but died during the first terrible winter and were buried here. This person is one of those person's listed thereon.
References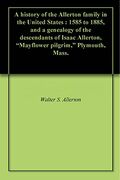 Residences
Footnotes (including sources)