Biography
Co I, 21st Maine Volunteers, Grand Army of the Republic
Pvt Joel Winslow was born 25 December 1833 in Nobleboro, Lincoln County, Maine, United States to Snow Winslow (1796-1854) and Betsey Hannah Hoch (1799-1878) and died 4 August 1863 Cairo, Alexander County, Illinois, United States of unspecified causes. He married Catherine Elizabeth Crammer (1832-1917) 27 December 1855 in Waldoboro, Lincoln County, Maine.
21st Maine Volunteers
Participated in Assaults on Port Hudson May 27 and June 14 (1863). Surrender of Port Hudson July 8. Ordered home July 24.
The 21st Maine Infantry mustered out of service August 25, 1863.
The regiment lost a total of 172 men during service; 1 officer and 26 enlisted men killed or mortally wounded, 1 officer and 144 enlisted men died of disease.
Children
Siblings
Residences
Vital Records
Nobleboro Gravestone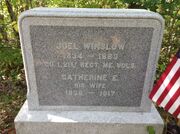 References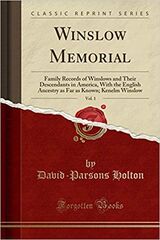 Footnotes (including sources)