Biography
Joel Henry Clapp was born 7 August 1850 in Utah, United States to Benjamin Lynn Clapp (1814-1865) and Elvira Corinda Randall (1825-1876) and died 4 September 1919 San Jose, Santa Clara County, California, United States of unspecified causes. He married Harriet Genora Moore (1860-1928) 1 January 1877 in Gilroy, Santa Cruz County, California.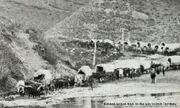 Numbered amoung the participants in the Edward Hunter 1850 Pioneer Company, a early Mormon pioneer wagon train traveling from to Salt Lake City in the early summer. 261 individuals and 67 wagons were in the company when it began its journey from the outfitting post at Kanesville, Iowa (present day Council Bluffs). This company was organized at 12-mile creek near the Missouri River. It was the first Perpetual Emigrating Fund Company of LDS Church. Its leader, Edward Hunter would go to become the 3rd presiding bishop of the church the following year. Several diary/biographical accounts exist for this group.
Elder Clapp traveled with his 2 wives, his mother and 9 children. They would settle for a length of time in Salt Lake City before moving to Sanpete County, Utah in about 1857.
Children
Offspring of Joel Henry Clapp and Harriet Genora Moore (1860-1928)
Name
Birth
Death
Joined with

Elvira Suzanne Clapp (1878-1961)




James Lynn Clapp (1880-1937)




Olive Francis Clapp (1881-1882)




Elvena Joella Clapp (1886-1959)




Leona Jane Clapp (1888-1953)




Charles Henry Clapp (1892-1946)
Siblings
References
Residences
Footnotes (including sources)