Capt Joel Bent
was born
22 February
1750
in
Sudbury
,
Middlesex County
,
Massachusetts
to
Elijah Bent (1713-1797)
and
Susannah Stone (1720-1801)
and died
25 November
1812
in
Barre
,
Worcester County
,
Massachusetts
of unspecified causes. He married
Marcy Mason (1743-1840)
13 July 1768 in
Barre
,
Worcester County
,
Massachusetts
. Ancestors are from the
United States
.
Biography
American Revolutionary War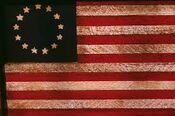 Joel served in the Revolutionary War, marching to Cambridge upon receipt of the news of the Concord Fight, commissioned Captain in the 7th Regiment, Massachusetts Militia, July 1, 1781.
7th Massachusetts Regiment, also known as Alden's Regiment, was raised on September 16, 1776, under Ichabod Alden (1739-1778) at Boston, Massachusetts. The regiment would see action at the Battle of Saratoga, Cherry Valley (11-Nov-78) and Sullivan's Expedition.
Barre MA Service
Joel was active in town affairs, serving as selectman for the town of Barre, 1781, 1782, 1795, 1798, 1801, 1803. Joel served as the town clerk, 1796, 1803, 1809, 1810, moderator nineteen years, representative to the General Court, 1801-1804.
Joel died November 25, 1812. (source: Descendants of Capt. Hugh Mason in America, Mason, Edna Warren, 1882, p 79)
Marriage and Family
Joel Bent is the son of Elijah Bent and Susanna (Stone) Bent.
On July 13, 1768, in Barre, Massachusetts, Joel married Mary Mason, daughter of Daniel Mason and Anna (Allen) Mason. Joel and Mary had six children, all born in Barre, Massachusetts.
Mary and Joel made their home in Barre, where their six children were born:
Sarah Bent (1768-)
Anna Bent (1769-1864)
Joel Bent (1770-1821)
Marcy Bent (1773-1850)
Samuel Bent (1778-1846) - Mormon pioneer, held several leadership positions in the LDS Church, veteran of Zion's Camp (1834) mormon militia march.
Abigail Bent (1780-1819)
Children
Siblings
Vital Records
Barre Gravestone
Gravestone Location : Lincoln Cemetery at Barre, Massachusetts
Residences
Footnotes (including sources)
Contributors