Joanna Hampton Chillingsworth was born 1616 in Lancashire, England and died 4 September 1684 Marshfield, Plymouth County, Massachusetts of unspecified causes. She married Thomas Chillingsworth (1612-1652) 1638 in Plymouth County, Massachusetts.
Children
Siblings
Vital Records
Green Harbor Monument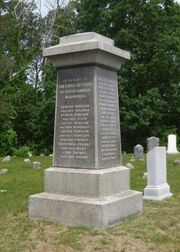 This person is listed in memorium on the Green Harbor Monument, located in Marshfield, Massachusetts and dedicated in honor of the early colonists from Plymouth Colony who settled this area in the early 1600s.
References
Footnotes (including sources)
Community content is available under
CC-BY-SA
unless otherwise noted.