Jemima Mangum Adair was born 14 September 1809 in Lebanon, Warren County, Ohio to John Mangum (1763-1843) and Rebecca Canida (1785-1847) and died 23 April 1848 Mt. Pisgah, Union County, Iowa of unspecified causes. She married Samuel Jefferson Adair (1806-1889) 3 December 1829 in Pickens County, Alabama.
Biography
In Itawamba County, Mississippi their family joined the Buttahatchie 1845 LDS Branch of the young LDS Church.
The couple married in lived in Pickens County, Alabama until about 1840, then they had three children born in Itawamba Co. About 1845 they moved to Illinois/Iowa area where the last two children were born.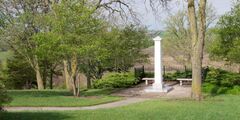 Mount Pisgah was a refugee way station from 1846 to 1852 along the Mormon Trail between Garden Grove and Council Bluffs. Today it is marked by a tall monument on a nine-acre state presertve which contains exhibits, historical markers, and a reconstructed log cabin. However, little remains from the 19th century except a cemetery memorializing the 300 to 800 emigrants who died while passing through or residing in the community.
Jemima was one of a dozen Adair/Mangum to die here with her mother-in-law Rebecca Brown Adair and several nieces and nephews.
Children
Offspring of Samuel J Adair and Jemima Catherina Mangum (1809-1848)
Name
Birth
Death
Joined with
William Jefferson Adair (1830-1846)
27 August 1830 Pickens County, Alabama
31 October 1846 Mt. Pisgah, Union County, Iowa


John Milton Adair (1833-1899)
8 January 1833 Pickens County, Alabama
June 1899 Barclay, Lincoln County, Nevada
Eliza Jane Richey (1837-1908)

Rebecca Frances Adair (1835-1836)
8 July 1835 Pickens County, Alabama
25 May 1836 Pickens County, Alabama


Permelia Jane Adair (1837-1883)
27 June 1837 Fulton, Clarke County, Alabama
16 December 1883

Dry Fork

, Uintah County, Utah Territory

John R Holden (1828-)

 John R Holden (1828-) Charles Decatur Searle (1836-1909)

George Washington Adair (1837-1909)
27 June 1837 Pickens County, Alabama
9 September 1909 Bloomfield, San Juan County, New Mexico
Ann Catherine Chestnut (1844-1863) Ann Catherine Chestnut (1844-1863) Emily Prescinda Tyler (1847-1917)

Samuel Newton Adair (1839-1924)
11 December 1839 Itawamba County, Mississippi
16 May 1924 Luna, Catron County, New Mexico
Helen Genette Brown (1845-1933)

Joseph Jasper Adair (1842-1846)
23 January 1842 Itawamba County, Mississippi
8 September 1846 Mt. Pisgah, Union County, Iowa


Rufus Columbus Buleson Adair (1844-1847)
9 February 1844 Itawamba County, Mississippi
2 August 1847 Winter Quarters, Douglas County, Nebraska


Jemima Catherine Adair (1846-1926)
6 April 1846 Des Moines, Polk County, Iowa, United States
15 April 1926 Murray, Salt Lake County, Utah, United States
Frederick Dickensen Rugg (1843-1918)

Ezra Taft Benson Adair (1848-1848)
25 April 1848 Mt Pisgah, Union County, Iowa
26 April 1848 Mt. Pisgah, Union County, Iowa
Siblings
Residences
Footnotes (including sources)