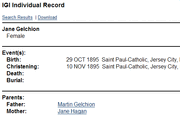 Jane B. Gelchion (1895-1976) Housewife (b. October 29, 1895, Jersey City, Hudson County, New Jersey, USA - d. March 27, 1976, Rutherford, Bergen County, New Jersey, USA)
Jane is the daughter of Martin Matthew Gelchion I (1858-1899) aka Matthew Gelchion, and Jane E. Hogan (1864-1949).
Her siblings include: Matthew John Gelchion I (1886-1966) who married Mary E. Sullivan (1890-1967); Mary Catherine Gelchion (1888-1889); Elizabeth Gelchion (1890-1961) who married William Henry Haney (1888-1985); Winifred Gelchion (1891-1984) who married Joseph T. Furey I (1895-1925) and after his death married Francis Parks (1902-1988); and Katherine Gelchion (1893-c1950) who married John Morgan.
She married Patrick Cryan (1894-1961) aka Packy Cryan, in 1927.
Thomas Cryan; and Jane Cryan.
In 1900 she was living with her parents at 138 McAdoo Avenue in Jersey City. In 1920 she was living at 64 Rose Avenue in Jersey City. In 1930 Pat and Jane were living at 24 Hackett Place in Rutherford in Bergen County, New Jersey.
Patrick and Jane are both buried in Holy Name Cemetery in Jersey City.
Jane B. Gelchion (1899-1976) was the second cousin, twice removed of Richard Arthur Norton (1958- ).
Community content is available under
CC-BY-SA
unless otherwise noted.