Jan Gerardsz van der Aa (c1427-c1496), Lord (heer) of Zegenwerp, Alderman (schepen) of 's-Hertogenbosch, was born circa 1427 to Gerard (Gerrit) van der Aa (c1385-1473) and Anna Jansdr van Schoonhoven (c1400-c1477) . He married Anna Maria Petersdr Pels 1450 JL . Charlemagne (747-814)/s, Hugh Capet (c940-996)/s.
Biography
Voor de Nederlandstalige biografie kijk | hier


Birth
Jan Gerardsdr. van der Aa was born about 1427 in 's-Hertogenbosch, Duchy of Brabant, the Burgundian Netherlands a State of the Holy Roman Empire.
Ancestors
The ancestors from Jan.


Historical context
The region's name is first recorded as the Carolingian shire pagus Bracbatensis, located between the rivers Scheldt and Dijle, from braec "marshy" and bant "region". Upon the 843 Treaty of Verdun it was part of Lotharingia within short-lived Middle Francia, and was ceded to East Francia according to the 880 Treaty of Ribemont.
On 4 August 1430 Filips van Sint-Pol dies, duke of Brabant, without being married. Brabant comes under the reign of Duke Philip the Good. In 1430 the Duchies of Lower Lotharingia and Limburg were also inherited by Philip the Good of Burgundy and became part of the Burgundian Netherlands.
 In 1477 the Duchy of Brabant became part of the House of Habsburg as part of the dowry of Mary of Burgundy. At that time the Duchy extended from Luttre, south of Nivelles to 's Hertogenbosch, with Leuven as the capital city.
1436
In 1436 there is a war between Holland and the Baltic countries. That's why stagnates the grain supply. In addition, there are floods in the Betuwe, Holland, and Friesland. There this causes a major famine in 's-Hertogenbosch, causing many people to die.
1439
From 1439 to 1442 there is a plague epidemic which causes a large death in the city.

The family Van der Aa en Nieuw-Herlaar
About the origin of this family can be read in the story Genealogy Van der Aa in the Middle Ages of Nico van Dinther [1]. The name probably comes from the farm at Aa in Boxtel. The Van der Aa family had a lot of possessions in the Meierij and distant surroundings. At the beginning of the 14th century, Nieuw-Herlaar castle was added. Castle Nieuw-Herlaar with associated grounds was a loan from the 'Hoge Heerlijkheid' Herlaer. According to a charter from the year 1340 Diederik van Horne, lord of Herlaar, lends the good Nieuw-Herlaar to Willem van der Aa in loan as his father had given it in loan (Dutch: erfleen) to Gerard van der Aa. The estate and castle Nieuw-Herlaar remained until around 1500 in the possession of the family. After a messy period, the castle was in 1532 in the hands of the Proeninck family of Deventer.

Family van der Aa and Coenen with whom daughter Maria married were important families from Brabant. Sint-Michielsgestel is close to 's-Hertogenbosch. The city of the Duke was at that time a powerful fortified town, center of government and trade. The families we meet at the castles and mansions in Sint-Michielsgestel belonged to the elite of 's-Hertogenbosch. They often had a home and function in the big city of 's Hertogenbosch.
The estate Zegenwerp
Zegenwerp was a castle in St. Michielsgestel in Duchy of Brabant. Blessing comes from the early Middle Ages, a "curtis" from the time that the Dommel flowed past the wooden church of Gestel and 's-Hertogenbosch was literally only forest. In 1385, the good blessing with accessories was handed over to the Lord of Herlaer, with Lord Willem van Aa present. The Lord of Herlaer lends Zegenwerp to the Van der Aa family. De eerste van hen, die blijkens gezegd Leenregister door de Heeren van Oud-Herlaer met dat goed werden beleend, was Gerard van Randerode gezegd van der Aa, ridder, zoon van Gerard en Catharina Monicx of wel Christina van Erp. [2]
1443
Jan van der Aa was borrowed with the estate in Zegenwerp, about a castle was not spoken yet. The castle is mentioned in 1473. Probably that Jan van der Aa or his son-in-law Herman Coenen had the castle built. Castle Zegenwerp is, like the new stone church, built in the second half of the 15th century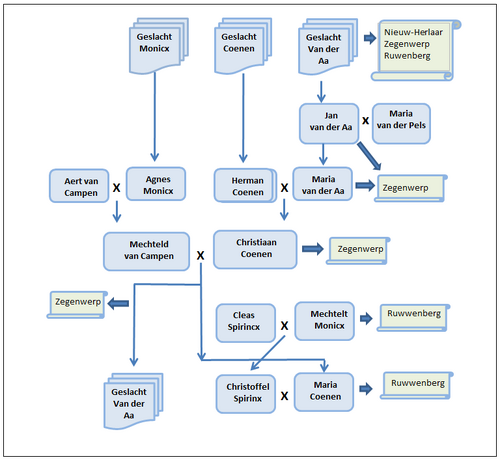 Below you will find a number of scripts in which Jan van der Aa is mentioned:
Jan Inghels, Henric de Proest, Jan van Attenorde and Jan van Haesdonc, from Jan van Wiler, have informed Jan van der Aa, son of the late Gerard, for the major, Jan van Wiler and the aforesaid, for a mass and a season one half of a meadow, of which Willem van der Aa has the other half, located in the parish Eelwijt and called in the Schouwenbroeck, to Brother Rombout van der Berct, prior of the convent of Our Lady at Hanswyck near Mechelen, for the benefit of the convent of the monastery mentioned above. Stamps: Schepenen van Percke. [3]
March 22, 1444:
Peter van Hemert, abbot of Berne, lays Jan van der Aa with the tenth of Hedichuysen. Witnesses: Hack van Outheusden and Phelipus Jan Aertsoen (Gentleman: An aam wine). [4]
December 10, 1444:
Schepenen van 's-Hertogenbosch acknowledged that Anna van Schoonhoven, daughter of Jan and wife of Gerard van der Aa, for the benefit of Jan, their son, renounced the usufruct of the good in [5]
July 20, 1457:
 Jan, Dirck and Henrick sons of Gerard Gerardsz. van der Aa and Anna Jansdr. van Schoonhoven sell the Lordship of Asten to Johanna van der Leck, Lady of Heeswijk, Dinther and Moergestel. [6]
Marriage
Jan married Anna Maria Petersdr Pels in 1450 in very likely 's-Hertogenbosch. She was the daughter of Peter Pels (± 1400 - after 1427).
Children
Descendants
The descendants from Jan.
1463
In 1419 and 1463 there were two large city fires in 's-Hertogenbosch. The second fire starts on June 13th the house De Grote Ketel in the Verwersstraat, after which the fire quickly spreads to the Kolperstraat, Ridderstraat, Behind the Wild Pig, part of the Vughterstraat, Snellestraat, Minderbroederstraat and part of the Market and the Pensmarkt. 4000 houses and part of the town hall and the monastery of the Minderbroeders go up in flames. The city authorities then prohibit the construction of houses with roofs of reeds or straw. The straw or straw must be replaced within ten years of the remaining houses by slate or tiles. For encouragement, a premium is set: for each rod, 40 stivers and 24 stivers for each rod. In order to pay for this, the excise duties on beer, wine and co increased. There will have been enough work for our namesakes around that time a family of slate.
Occupation
Jacobs 1986, blz. 265,266,267;:'s-Hertogenbosch, Noordbrabants Museum, collectie zegelstempels nr. 108; SAB, archief Godshuizen, archief Groot Ziekengasthuis inv. nr. 2816, RA Arnhem, archief heren van Ammerzoden inv. nr. 3; archief Godshuiszen, archief Groot Ziekengasthuis inv. nr. 559, SAB archief Godshuizen, archief Groot Ziekengasthuis inv. nr. 1870. </ref>}}
Lord (Dutch: Heer) of Zegenwerp from 1450
Lord (Dutch: Vrijheer) of Bokhoven,
Mayor (French: bourgmestre) de Bois-le-Duc (1495-1496)
Alderman (Old Dutch: schepen) van 's Hertogenbosch in 1441, 1468 en 1482.
October 11, 1476:
"Henrick van der Aa, knight, Jan and Dirk van der Aa, brothers declare that Walraven van Brouckhuyzenen van Weerdenborgh, lord of Ammerzoden, our brother-in-law as wife of Elsbene Sloizen his wife is our cousin (she is a daughter of their sister Elsbene and Robert de Loze) has made a promise in connection with the marriage conditions etc.'' [7]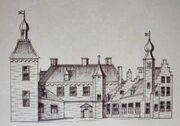 February 1474:
During the time that the Van der Aa family leaves from Nieuw-Herlaar, they also leave Zegenwerp, but the latter in a more orderly manner. Maria van der Aa, a daughter of Jan van der Aa and his wife Maria Pels, married Herman Coenen. In 1474, Jan van Aa and Maria Pels transferred the house Zegenwerp and accompanying estate to her daughter Maria and son-in-law Herman.
Death
Jan, about 58 years old, passed away about 1485, his wife, Mary, died in 1530. They were both not buried in the church of St. Michael's. [8]
Timeline
1427 born
1450 married Anna
1455 daughter Maria born
1474 transferred Zegenwerp to daughter
1477 Duchy of Brabant became part of the Habsburgian Netherlands
1485 passed away
Releationship with Charlemagne
Jan van der Aa
Anna van Schoonhoven
Elsa van Diest
Elsbena van Horne
Willem (IV of V) van Horne
Johanna van Leuven Gaesbeek
Hendrik van Leuven
Godfried van Leuven
Hendrik I van Brabant
Godfried III van Brabant
Godfried II van Leuven
Godfried I van Leuven (met de baard)
Hendrik II van Leuven
Lambert II van Leuven (Balderik)
Gerberga van Neder-Lotharingen
Karel van West-Francië
Lodewijk IV (van Overzee)
Karel III van West-Francië (de Eenvoudige)
Lodewijk II van West-Francië (de Stamelaar)
Karel II (de Kale)
Lodewijk I (de Vrome)
Karel de Grote
Research Notes
24 nov 2018: Foto van zijn zegelstempel toegevoegd
24 nov 2018: Relatie met Karel de Grote toegevoegd
24 nov 2018: Link met Engelstalige hoofdpagina toegevoegd
24 nov 2018: Aantal berichten waarin Jan Coenen voorkomt toegevoegd
25 nov 2018: Hoofstuk Release Notes opgenomen
5 dec 2018: Hyperlinks naarr Wikipedia opgenomen
25 nov 2018: Inserted Release Notes section
5 dec 2018: OP verzoek de meer complexe HTML code voor opmaak vervangen door meer eenvoudige Wiki code. Minder mooi, maar wel beter leesbaar voor een ieder
6 dec 2018: Wapen van familie Aa toegevoegd
6 dec 2018: Geschiedenis van Het landgoed Zegenwerp met bron opgemomen>
6 dec 2018: Overdracht Zegenwerp aan schoonzoon Herman Coenen met bron
6 dec 2018: De familie Van der Aa en Nieuw-Herlaar
6 dec 2018: OvHogersnoot en de grote branden in 's-Hertogenbosch
Sources
External links
See also
From my personal Family Tree
Footnotes (including sources)
Community content is available under
CC-BY-SA
unless otherwise noted.