The following is based on:
James Rutherford was born about 1605 in Nisbet, Roxburgshire, Scotland. He served in the Scots Brigade of the Dutch Army. In the course of his military service lived in Utrecht, Grave, 's Hertogenbosch and Fort Crevecoeur. In 16XX he conveyed an offer to his brother the Rev. Samuel Rutherford, then minister of the Presbyterian church in Anwoth, Wigtonshire, Scotland, to assume a professorship at the University of Utrecht. James lost a leg at the Siege of Gravelines in 1658. He died ten years later. His will was probated in Scotland in 1668. His sisters Agness and Barbara are described as his only living relatives, and heirs. His estate included a small sum of money (6 pounds). the dates here don't look right. Need to be checked

James Rutherford is believed to be the "Jheemes Ridderfort" who married the widow "Margaret/Margariet Gladstaines/Gladstone/Gleetseel" on the 24th of November 1639, in Fort Crevecoeur near 's-Hertogenbosch, Netherlands. Their banns had been published on the 22nd of October 1639 in 's-Hertogenbosch and Woudrichem, in the Province of Noord-Brabant. His wife is not mentioned in his probate record, and is presumed to have pre-deceased him. No children are mentioned in the probate record, and his sisters Agnes and Barbara are described as XXXXXX. Nonetheless, he is said to have had three or four sons. The basis for this is not known.
| | | |
| --- | --- | --- |
| | Entry | Source/Basis/Commentary |
| DOB: | c1605 | WKR:88 |
| POB: | | |
| DOD: | c1668 | will registered in Edinburgh, Scotland 9 March 1667/1668. KRD:88 |
| POD: | | |
| Burial: | | |
| Spouse: | | |
| DOM: | | |
| POM: | | |
| Father: | | |
| Mother: | | |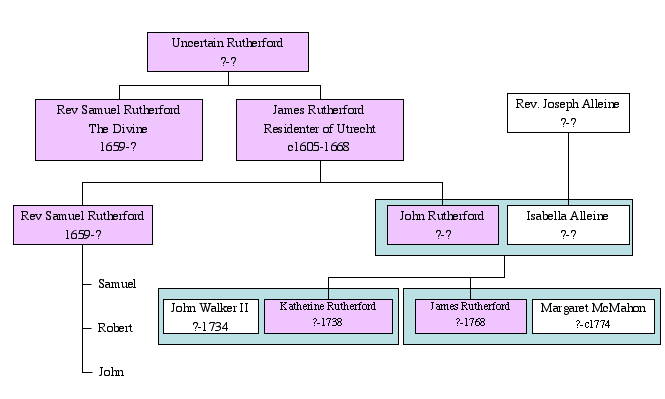 ChildList
Edit
Community content is available under
CC-BY-SA
unless otherwise noted.