Rev. James Minott
was born
14 September
1653
in
Dorchester
,
Norfolk County
,
Massachusetts
to
John Minot (1626-1669)
and
Lydia Butler (1629-1667)
and died
20 September
1735
in
Concord
,
Middlesex County
,
Massachusetts
of unspecified causes. He married
Rebecca Wheeler (1661-1734)
circa 1684 in
Concord
,
Middlesex County
,
Massachusetts
. Ancestors are from the
United Kingdom
.
Biography
James Minot was the son of Capt. John & Lydia (Butler) Minott, he graduated from Harvard College in 1675, and afterwards studied medicine and divinity. He preached at Stow and held various offices including Captain of the Militia. He married Rebecca Wheeler (1661-1734), daughter of Capt. Timothy Wheeler (1604-1687) & Mary (Brooks) Wheeler on 9 February 1688 in Concord, Mass.
Gravestone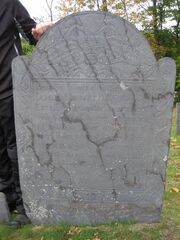 Gravesite: Old Hill Burial Ground, Concord, Massachusetts,
Gravestone Inscription:
Here is Interr'd ye Remains of James Minott Esq. AM an excelling grammarian enriched with ye gift of prayer & preaching, a commanding officer, a physician of great values, a great lover of peace as well as of justice & which was his greater glory. A gent of distinguished virtue & goodness, happy in a virtuous posterity of living regiously died comfortably Sept. 20, 1735 AEt 83.
Children
Siblings
References
Residences
Footnotes (including sources)
Contributors
Community content is available under
CC-BY-SA
unless otherwise noted.