Biography
James Eldred was born 1651 in North Kingstown, Washington County, Rhode Island to Samuel Eldred (1620-1697) and Elizabeth Miller (1622-1711) and died 1687 Stonington, New London County, Connecticut of unspecified causes.
It appears that this James Eldred is the same one featured in the story below about escaping marauding Indians at the Jireh Bull Blockhouse. The Eldred's were a prominent and unique family of English immigrants living in the area, closely associated with the followers of Anne Hutchison. James both lives in the area and is reasonably close to the age quoted.
House Torched in King Philip's War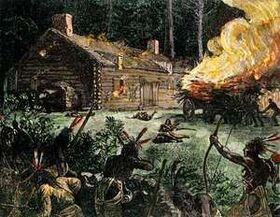 King Philip's War (1675-1678) was an armed conflict between Native American inhabitants of present-day New England and English colonists and their Native American allies. The war continued in the most northern reaches of New England until the signing of the Treaty of Casco Bay in April 1678.
The Great Swamp Fight of 1675 (AKA: Great Swamp Massacre or Battle of Narragansett Fort was a crucial battle fought during King Philip's War between colonial militia of New England and the Narragansett tribe in December 1675. It was fought near the villages of Kingston and West Kingston in the Colony of Rhode Island and Providence Plantations. The combined force of the New England militia included 150 Pequots, and they inflicted a huge number of Narragansett casualties, including many hundred women and children. The battle has been described as "one of the most brutal and lopsided military encounters in all of New England's history." Since the 1930s, Narragansett and Wampanoag people commemorate the battle annually in a ceremony initiated by Narragansett-Wampanoag scholar Princess Red Wing.
Jireh Bull Blockhouse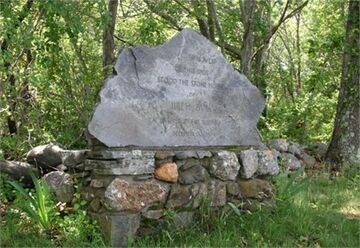 The Jireh Bull Blockhouse (RI-926, also known as the Jireh Bull Garrison House or Jireh Bull Block House) is an historic archaeological site on Middlebridge Road in South Kingstown, Rhode Island. In 1657 a blockhouse was built on the site by Jireh Bull, son of Rhode Island Governor Henry Bull (1609-1693). The stone garrison house was burned by the Native Americans in King Philip's War on December 15, 1675, and fifteen of its defenders were massacred. The site was acquired by the Rhode Island Historical Society in 1925.
On December 15, 1675, Narraganset warriors attacked the Jireh Bull Blockhouse and killed at least 15 people. 15 year-old James Eldred escaped from the blockhouse and was pursued a considerable distance; he survived having a tomahawk thrown at him at close range and a hand-to-hand encounter with a Narraganset warrior. This occurred along Indian Run Brook in Wakefield-Peacedale, Rhode Island.[1]
Siblings
Residences
References
Footnotes (including sources)
Community content is available under
CC-BY-SA
unless otherwise noted.