James E. Ashworth
was born
4 May
1831
in
Bury
,
Greater Manchester
,
England
,
United Kingdom
(Lancashire) and died
29 October
1910
in
Westbrookville
,
Sullivan County
,
New York
,
United States
(Mamakating Township) of unspecified causes. He married
Ellen E. Ramsbottom (1843-1910)
21 February 1861 in
Dover
,
New Hampshire
,
United States
.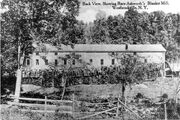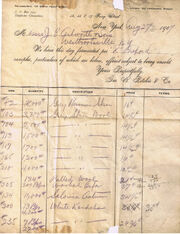 James E. Ashworth (1831-1910) J.E. Ashworth & Sons blanket mill (b. May 04, 1831; Bury, England - d. October 29, 1910; Westbrookville, Mamakating Township, Sullivan County, New York, USA)
Siblings
Children
Offspring of James E. Ashworth and Ellen E. Ramsbottom (1843-1910)
Name
Birth
Death
Joined with


Ellen "Nellie" Jane Ashworth (1861-1921)


Richard Charles Ashworth (1866-1943)
1866 United States
1943 United States
Frances L. Page (1868-1946)


William Ashworth (1869-)


Albert P. Ashworth (1872-1934)
29 August 1872 Greenwich, Washington County, New York, United States
11 March 1934 Westbrookville, Sullivan County, New York, United States
Luella Griffin (1877-1906)
Jessie C. Patterson (1885-1965)


Daniel Gunner Ashworth (1876-1949)
15 June 1876 Salem, Washington County, New York, United States (East Salem)
28 June 1949 Westbrookville, Orange County, New York, United States
Sybil H. Decker (1881-1946)

Greenwich, New York
In 1880 he was living in Greenwich, New York and working in a woolen mill.
J.E. Ashworth business
James eventually had four blanket mills in America: Hartland, Vermont; Westbrookville, New York; 190 Eagleville Rd. in Cambridge/Shushan, New York, and Whippany, New Jersey. J. E. Ashworth & Sons had a "reputation of turning out some of the finest blankets in the country." United States Trade Reports of Cincinnati, Ohio, wrote on December 16, 1904: "The products of this establishment not only equal those offered by any other manufacturer, but in points of workmanship and finish cannot be surpassed, and no house in the country is more fully equipped to meet modern demands in this line. They are firm believers in quality and zealously guard the quality of their products at all times by using only the best materials and employing experienced workmen." Their fawn colored horse blankets were used by the Wells Fargo, American Express and Adams Express Company transport companies, and the Standard Oil and Atlantic Petroleum oil companies.
Obituary
"... [He] came to United States as a young man. Manufactured horse blankets in Vermont. Came to [Westbrookville, New York] had a heavy loss due to fire. After the fire he went to Whippany, New Jersey. Later he returned to this place, engaged in the saw mill business and later rebuilt the mill and conducted a large blanket manufacturing business."
Burial
He is buried in Westbrookville Cemetery
External links
Images
Footnotes (including sources)
| | |
| --- | --- |
| ‡ General | First wife's name unknown. second wife may have been Frances Ellen Ramsbottom. See son John's page. |
| | |
| --- | --- |
| ₪2 Wedding 2 | |
Contributors
  Richard Arthur Norton (1958- ), NewEngland27, Robin Patterson
Community content is available under
CC-BY-SA
unless otherwise noted.