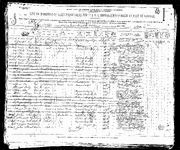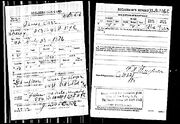 James Carr (1876-c1950) aka Jimmy Carr; Emigrated to USA after 1901, possibly 1903; Bartender; Chauffeur (b. July 28, 1876, Hollygrove, Athleague, Killeroran, County Galway, Ireland - d. circa 1950, Bronx or Brooklyn, or Manhattan, New York City, New York, USA)
James was born circa 1870-1875 in Coalpits or Hollygrove, Killeroran, County Roscommon, Ireland.
Emigration
Edit
James appears in the 1901 Census living in Ireland. He emigrated to New York on October 24, 1904 from Roscommon. He arrived with his cousin Bridget Conboy (1879-?) and said he was going to live with his brother Michael Carr (1880-1906) who lived at 64 2nd Avenue, New York. James said he was born in 1874 when he arrived. He emigrated almost 20 years after his siblings arrived. He still had a thick Irish accent. Bridget was going to be staying with her sister, "Mrs. Morrisey", who is most likely her cousin, Catherine Mary Hogan (1864-1941) Morrisey.
World War I draft
Edit
He filled out his draft card on September 12, 1918 and listed his birthday as July 28, 1876. He listed his next of kin as "sister, Mrs. Kate Kennedy, 556 West 60th Street". He was working as a chauffeur and living at 358 West 41st Street "c/o Kelly".
Memories about James Carr
Edit
Coalpits, Ireland
Edit
He died some time between 1948 and 1951. He doesn't appear in the New York City Death Index which covers up to 1947 and he isn't mentioned in his sister's funeral notice in 1951. The last time he was seen alive by a family member who remembers him was during World War II.
James Carr is most likely buried in the Bronx, New York or Hudson County, New Jersey.
Unfinished tasks
Edit
He has not been found in the US census and his death date and burial place have not been determined. He died sometime after WWII between 1947 and 1952.
Community content is available under
CC-BY-SA
unless otherwise noted.