Biography
James Albert Chesney was born 20 September 1824 in Cooper County, Missouri, United States and died October 1869 Utah, United States of unspecified causes. He married Jane Findlay (1817-1893) 29 September 1853 in Salt Lake City, Salt Lake County, Utah.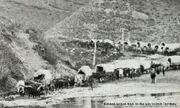 Numbered amoung the participants in the Mississippi Saints 1846 Pioneer Company, a early Mormon pioneer wagon train that left Mississippi in 1846 to join the Mormon exodus to Utah. This group Brigham Young's vanguard company and spent the winter of 1846/47 at Fort Pueblo where the were joined by soldiers of the sick detachment of the Mormon Battalion. They reached Salt Lake City in late summer of 1847.
"I will give the names of Brother Crow's company. They are as follows: Robert Crow, Elizabeth Crow, Benjamin Crow, Harriet Crow, John McHenry Crow, Walter H. Crow, William Parker Crow, Isa [Ira] Venda Exene Crow, Ira Minda Almerene Crow, George W. Therlkill. Matilda Jane Therlkill, James William Therlkill, Milton Howard Therlkill, Archibald Little, James Chesney and Lewis B. Myers, seventeen in number, making 161 souls in the Pioneer company, deducting the four that have gone to Pueblo. J. B. Myers is represented as knowing the country to the mountains, having traveled it before. They have five wagons, one cart, eleven horses, twenty-four oxen, twenty-two cows, three bulls and seven calves. The number of animals in the camp are ninety-six horses, fifty-one mules, ninety oxen, forty-three cows, nine calves, three bulls, sixteen chickens, sixteen dogs, seventy-nine wagons and one cart. "[1]
Research Notes
1846-47 : Mississippi Saints Wagon Trek
1850 US Census:

San Pete County, Utah

1853 Salt Lake City Marriage
1860 US Census: 6th Ward of Great Salt Lake City, Salt Lake, Utah Territory, United States
Children
Siblings
References
See Also
Footnotes (including sources)