Articles, images
People

Births

 •

Deaths

 •

Baptisms

 •

Marriages

 •

Divorces

 •

Burials

 •

Families

 •

Residents

Daily life

Before 1700

 •

1700-1749

 •

1750-1799

 •

1800-1819

 •

1820-1839

 •

1840-1859

 •

1860-1879

 •

1880-1899

 •

1900-1919

 •

1920-1939

 •

1940-1959

 •

1960-1979

 •

1980-1999

 •

2000-present

Research,
including queries

Jackson County, Ohio links

 •

Birth records

 •

Businesses

 •

Cemeteries

 •

Census data

 •

Census records

 •

Church records

 •

Court records

 •

Death records

 •

Directories

 •

Landowner records

 •

Marriage records

 •

Maps

 •

Military records

 •

Obituaries

 •

Probate records

 •

Queries
Jackson County

,

Ohio


Location in the state of Ohio

Ohio's location in the U.S.
Founded
March 1 1816[1]
Named for
Andrew Jackson
Seat

Jackson

Largest city
Jackson
Area
 - Total
 - Land
 - Water

422 sq mi (1,092 km²)
420 sq mi (1,089 km²)
1 sq mi (3 km²), 0.20%
Population
 - (2000)
 - Density

32,641
78/sq mi (30/km²)

Time zone

Eastern: UTC-5/-4
Jackson County is a county located in the state of Ohio, United States. As of 2000, the population was 32,641. Its county seat is Jackson6 and is named for Andrew Jackson, a hero of the War of 1812 who was subsequently elected President of the United States.[2]
Geography
[
]
According to the U.S. Census Bureau, the county has a total area of 1,092 km² (422 sq mi). 1,089 km² (420 sq mi) of it is land and 3 km² (1 sq mi) of it (0.29%) is water.
Adjacent counties
[
]
Demographics
[
]
As of the census² of 2000, there were 32,641 people, 12,619 households, and 9,136 families residing in the county. The population density was 30/km² (78/sq mi). There were 13,909 housing units at an average density of 13/km² (33/sq mi). The racial makeup of the county was 97.89% White, 0.59% Black or African American, 0.34% Native American, 0.17% Asian, 0.02% Pacific Islander, 0.16% from other races, and 0.82% from two or more races. 0.60% of the population were Hispanic or Latino of any race.
There were 12,619 households out of which 34.5% had children under the age of 18 living with them, 55.4% were married couples living together, 12.0% had a female householder with no husband present, and 27.6% were non-families. 24.0% of all households were made up of individuals and 10.5% had someone living alone who was 65 years of age or older. The average household size was 2.55 and the average family size was 3.00.
In the county, the population was spread out with 26.0% under the age of 18, 8.7% from 18 to 24, 28.7% from 25 to 44, 23.0% from 45 to 64, and 13.6% who were 65 years of age or older. The median age was 36 years. For every 100 females there were 93.2 males. For every 100 females age 18 and over, there were 89.9 males.
The median income for a household in the county was $30,661, and the median income for a family was $36,022. Males had a median income of $30,651 versus $21,546 for females. The per capita income for the county was $14,789. About 13.6% of families and 16.5% of the population were below the poverty line, including 20.3% of those under age 18 and 16.1% of those age 65 or over.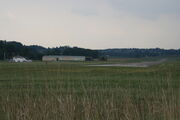 Government
[
]
Main article: Ohio county government.
Localities
[
]
Cities
[
]
Villages
[
]
Townships
[
]
Other places
[
]
References
[
]
---
Municipalities and communities of

Jackson County, Ohio

,

United States

Cities

Villages
Townships

Bloomfield | Coal | Franklin | Hamilton | Jackson | Jefferson | Liberty | Lick | Madison | Milton | Scioto | Washington

Other localities
 State

of

Ohio

Topics

People

Government

Administrative divisions

Law

Elections

Delegations

Colleges and universities

Motto

Portal

Society

Crime

Economy

Politics

Sports

Regions

Appalachian Ohio

Black Swamp

The Bluegrass

Glacial till plains

Lake Erie

Lake Erie Islands

Mahoning Valley

Northeast Ohio

Vacationland

Western Reserve

Metro areas

Largest cities
Counties
Coordinates: 39°01′N 82°37′W / 39.02, -82.62