Articles, images
People

Births

 •

Deaths

 •

Baptisms

 •

Marriages

 •

Divorces

 •

Burials

 •

Families

 •

Residents

Daily life

Before 1700

 •

1700-1749

 •

1750-1799

 •

1800-1819

 •

1820-1839

 •

1840-1859

 •

1860-1879

 •

1880-1899

 •

1900-1919

 •

1920-1939

 •

1940-1959

 •

1960-1979

 •

1980-1999

 •

2000-present

Research,
including queries

Indian River County, Florida links

 •

Birth records

 •

Businesses

 •

Cemeteries

 •

Census data

 •

Census records

 •

Church records

 •

Court records

 •

Death records

 •

Directories

 •

Landowner records

 •

Marriage records

 •

Maps

 •

Military records

 •

Obituaries

 •

Probate records

 •

Queries
Indian River County

,

Florida


Seal


Location in the state of Florida

Florida's location in the U.S.
Founded
May 30 1925
Seat
Vero Beach
Area
 - Total
 - Land
 - Water

617 sq mi (1,598 km²)
503 sq mi (1,303 km²)
114 sq mi (295 km²), 18.43%
Population
 - (2000)
 - Density

112,947
225/sq mi (87/km²)
Website
www.ircgov.com/
Indian River County is a county located in the U.S. state of Florida. As of 2000, the population was 112,947. The U.S. Census Bureau 2005 estimate for the county is 128,594 [1]. Its county seat is Vero Beach6.
History
[
]
Indian River County was created in 1925. It was named for the Indian River Lagoon.
Geography
[
]
According to the U.S. Census Bureau, the county has a total area of 1,598 km² (617 sq mi). 1,303 km² (503 sq mi) of it is land and 294 km² (114 sq mi) of it is water, much of it in the Atlantic Ocean. The total area is 18.43% water.
Indian River County is the sole county in the Sebastian-Vero Beach Metropolitan Statistical Area.
Adjacent Counties
[
]
Industry
[
]
It is home to general aviation manufacturer Piper Aircraft [2],and Velocity Aircraft [3], CVS distribution Center. Indian River County is home to where The World Famous Indian River Citrus, that is sold world wide, is grown.

Demographics
[
]
As of the census² of 2000, there were 112,947 people, 49,137 households, and 32,725 families residing in the county. The population density was 87/km² (224/sq mi). There were 57,902 housing units at an average density of 44/km² (115/sq mi). The racial makeup of the county was 87.43% White, 8.19% Black or African American, 0.25% Native American, 0.74% Asian, 0.03% Pacific Islander, 2.15% from other races, and 1.21% from two or more races. 6.53% of the population were Hispanic or Latino of any race.
There were 49,137 households out of which 21.70% had children under the age of 18 living with them, 54.50% were married couples living together, 8.90% had a female householder with no husband present, and 33.40% were non-families. 28.20% of all households were made up of individuals and 16.10% had someone living alone who was 65 years of age or older. The average household size was 2.25 and the average family size was 2.72.
In the county the population was spread out with 19.20% under the age of 18, 6.00% from 18 to 24, 22.30% from 25 to 44, 23.30% from 45 to 64, and 29.20% who were 65 years of age or older. The median age was 47 years. For every 100 females there were 93.70 males. For every 100 females age 18 and over, there were 90.80 males.
The median income for a household in the county was $39,635, and the median income for a family was $46,385. Males had a median income of $30,870 versus $23,379 for females. The per capita income for the county was $27,227. About 6.30% of families and 9.30% of the population were below the poverty line, including 13.60% of those under age 18 and 5.70% of those age 65 or over.
Places
[
]
Incorporated
[
]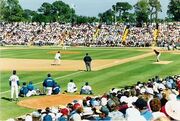 Unincorporated
[
]
See also
[
]
External links
[
]

Governmental
[
]
Non-governmental
[
]
Municipalities and communities of

Indian River County, Florida

,

United States

Cities

Towns

Indian River Shores | Orchid

CDPs

Florida Ridge | Gifford | North Beach | Roseland | South Beach | Vero Beach South | Wabasso | Wabasso Beach | West Vero Corridor | Winter Beach

Communities
 State

of

Florida

Topics

Delegations · Environment · Floridians · Geography · Government · History · State Parks · Transportation · Visitor Attractions

Society

Culture · Crime · Demographics · Economy · Education · Politics

Regions

Big Bend · Central Florida · Emerald Coast · First Coast · Florida Heartland · Florida Keys · Florida Panhandle · Forgotten Coast · Fun Coast · Gold Coast · Nature Coast · North Central Florida · North Florida · South Florida · Southwest Florida · Space Coast · Sun Coast · Tampa Bay Area · Treasure Coast

Metro areas

Miami–Fort Lauderdale–Pompano Beach (Miami-Dade, Broward, Palm Beach)  · Tampa-St. Petersburg-Clearwater (Hernando, Hillsborough, Pasco, Pinellas) · Orlando-Kissimmee-Sanford (Lake, Orange, Osceola, Seminole)  · Jacksonville (Duval, Clay, St. Johns, Nassau, Baker)  · North Port–Bradenton–Sarasota (Manatee, Sarasota)  · Cape Coral-Fort Myers (Lee)  · Lakeland-Winter Haven (Polk)  · Palm Bay-Melbourne-Titusville (Brevard)  · Deltona-Daytona Beach-Ormond Beach (Volusia)  · Pensacola-Ferry Pass-Brent (Escambia, Santa Rosa) · Port St. Lucie (St. Lucie, Martin)  · Tallahassee (Gadsden, Jefferson, Leon, Wakulla)  · Ocala (Marion)  · Naples-Marco Island (Collier) · Gainesville (Alachua, Gilchrist) · Fort Walton Beach-Crestview-Destin (Okaloosa) · Panama City-Lynn Haven-Panama City Beach (Bay) · Punta Gorda (Charlotte) · Sebastian-Vero Beach (Indian River)  · Palm Coast (Flagler)

Largest cities

Counties
Coordinates: 27°42′N 80°35′W / 27.70, -80.58