The Illinois-Indiana-Kentucky tri-state area is a tri-state area where the U.S. states of Illinois, Indiana, and Kentucky intersect. The area is defined mainly by the television viewing area and consists of ten Illinois counties, eleven Indiana counties, and nine Kentucky counties.
The 2010 population estimate of the 30-county core region is 911,613 people. Evansville, Indiana, with approximately 118,000 people, is the largest city and the principal hub for both the Evansville Metropolitan Area and Southwestern Indiana. Owensboro, Kentucky, with approximately 60,000 people, is the second-largest city and the secondary hub as well as the hub for the Owensboro Metropolitan Area. The other seven cities with 10,000 or more people include Harrisburg, Illinois; Henderson, Kentucky; Madisonville, Kentucky; Princeton, Indiana; Vincennes, Indiana; Washington, Indiana; and Jasper, Indiana. The dissecting point between the three states are the Wabash and Ohio Rivers which meet near the tripoint of Gallatin County, Illinois, Posey County, Indiana, and Union County, Kentucky.
Some of the counties along the edges may or may not consider themselves as part of the area. One of the Evansville TV stations (Local 7 WTVW) also includes Hardin County, Illinois, Crawford County, Indiana, Orange County, Indiana, Breckenridge County, Kentucky, Crittenden County, Kentucky and Grayson County, Kentucky as part of their viewing area as well as the below-mentioned counties because, prior to the advent of digital television, the station broadcast on the VHF band (it now broadcasts on RF channel 28, in the UHF band). This was also due to their transmitter being located in Warrick County as opposed to in Henderson County, like the other stations. (See map on right.)
In addition, the counties on the eastern edge of the area are included in Kentuckiana, the northern edge counties are included in the Terre Haute Viewing Area and the western edge counties are either included in the Paducah-Carbondale or the St. Louis Viewing Areas and the southern edge are included in the Nashville-Clarksville Viewing Area.
Note: Italicized counties are included by only WTVW. See above map.
| | | | |
| --- | --- | --- | --- |
| Illinois counties | Indiana counties | Kentucky counties | |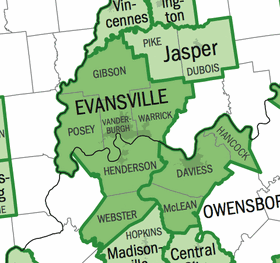 Population
Rank
City
State
Population
2010
County
Region
1
Evansville
Indiana
117,429
Vanderburgh
Southwestern
Indiana
2
Owensboro
Kentucky
57,265
Daviess
Northwestern
Kentucky
3
Henderson
Kentucky
28,757
Henderson
Northwestern
Kentucky
4
Madisonville
Kentucky
19,591
Hopkins
Northwestern
Kentucky
5
Vincennes
Indiana
18,423
Knox
Southwestern
Indiana
6
Jasper
Indiana
15,038
Dubois
Southwestern
Indiana
7
Washington
Indiana
11,509
Daviess
Southwestern
Indiana
8
Princeton
Indiana
10,974
Gibson
Southwestern
Indiana
9
Harrisburg
Illinois
9,638
Saline
Southeastern
Illinois
10
Olney
Illinois
8,631
Richland
Southeastern
Illinois
11
Mount Carmel
Illinois
8,282
Wabash
Southeastern
Illinois
12
Tell City
Indiana
7,272
Perry
Southwestern
Indiana
13
Mount Vernon
Indiana
7,186
Posey
Southwestern
Indiana
14
Boonville
Indiana
6,834
Warrick
Southwestern
Indiana
15
Central City
Kentucky
5,893
Muhlenberg
Northwestern
Kentucky
15
Huntingburg
Indiana
5,594
Dubois
Southwestern
Indiana
All of the cities on the list are county seats of their respective counties except Huntingburg, Indiana and Central City, Kentucky.
Metropolitan and micropolitan areas
[
edit
|
edit source
]
Name
Primary City
or Cities
State
or States
County
or Counties
Non-Area County or
Counties Influenced
Area
2005
Population
Evansville, IN-KY
Metropolitan Statistical Area
Evansville
Henderson
Princeton
Indiana
Kentucky
Gibson, Posey
Vanderburgh, Warrick
Henderson, Webster
Illinois: Wabash, White
Indiana: Pike, Spencer
Kentucky: Union
2,367 sq mi
6,130 km2
352,943
Owensboro, KY
Metropolitan Statistical Area
Owensboro
Kentucky
Daviess, Hancock
McLean
Indiana: Perry, Spencer
Kentucky: Breckinridge, Ohio
931 sq mi
2,410 km2
112,104
Name
Primary City
State
or States
County
or Counties
Area
2005
Population
Central City, KY
Micropolitan Area
Central City
Greenville
Kentucky
Muhlenberg
479 sq mi
1,241 km2
32,331
Harrisburg, IL
Micropolitan Area
Harrisburg
Illinois
Saline
387 sq mi
1,002 km2
26,733
Jasper, IN
Micropolitan Area
Jasper
Indiana
Dubois
Pike
776 sq mi
2010 km2
53,211
Madisonville, KY
Micropolitan Area
Madisonville
Kentucky
Hopkins
554 sq mi
1,430 km2
46,286
Vincennes, IN-IL
Micropolitan Area
Lawrenceville
Vincennes
Illinois
Indiana
Knox
Lawrence
898 sq mi
2,330 km2
54,332
Washington, IN
Micropolitan Area
Washington
Indiana
Daviess
437 sq mi
1,130 km2
32,200
Population Total: 142,574
County
Name
County
Seat
Population
(2007)
Area
Clay
Louisville
14,760
437 sq mi (1,130 km2)
Edwards
Albion
6,971
223 sq mi (580 km2)
Gallatin
Shawneetown
6,445
328 sq mi (850 km2)
Hamilton
McLeansboro
8,621
436 sq mi (1,130 km2)
Lawrence
Lawrenceville
15,452
374 sq mi (970 km2)
Richland
Olney
16,149
362 sq mi (940 km2)
Saline
Harrisburg
26,933
387 sq mi (1,000 km2)
Wabash
Mt. Carmel
13,788
232 sq mi (600 km2)
Wayne
Fairfield
17,667
716 sq mi (1,850 km2)
White
Carmi
15,788
502 sq mi (1,300 km2)
Population Total: 498,015
County
Name
County
Seat
Population
(2007)
Area
Daviess
Washington
32,200
437 sq mi (1,130 km2)
Dubois
Jasper
40,260
435 sq mi (1,130 km2)
Gibson
Princeton
39,785
526 sq mi (1,360 km2)
Knox
Vincennes
38,880
524 sq mi (1,360 km2)
Martin
Shoals
13,575
341 sq mi (880 km2)
Perry
Tell City
22,665
386 sq mi (1,000 km2)
Pike
Petersburg
14,440
342 sq mi (890 km2)
Posey
Mt. Vernon
30,050
429 sq mi (1,110 km2)
Spencer
Rockport
25,200
401 sq mi (1,040 km2)
Vanderburgh
Evansville
174,425
236 sq mi (610 km2)
Warrick
Boonville
61,552
424 sq mi (1,100 km2)
Population Total: 276,007
County
Name
County
Seat
Population
(2007)
Area
Daviess
Owensboro
93,756
476 sq mi (1,230 km2)
Hancock
Hawesville
8,617
199 sq mi (520 km2)
Henderson
Henderson
45,296
467 sq mi (1,210 km2)
Hopkins
Madisonville
46,286
554 sq mi (1,430 km2)
McLean
Calhoun
9,731
256 sq mi (660 km2)
Muhlenberg
Greenville
31,561
479 sq mi (1,240 km2)
Ohio
Hartford
23,560
597 sq mi (1,550 km2)
Union
Morganfield
15,637
363 sq mi (940 km2)
Webster
Dixon
13,890
336 sq mi (870 km2)
There are two counties named Daviess in the Tri-State Area, Daviess County, Indiana (pronounced Da'Veez), and Daviess County, Kentucky (pronounced Da'Vis). Both counties are named for Maj. Joseph Hamilton Daviess, U.S. District Attorney for Kentucky who prosecuted Aaron Burr.
Community content is available under
CC-BY-SA
unless otherwise noted.