Ialomița is a county (județ) of Romania, in Muntenia, with the capital city at Slobozia.
In 2002, it had a population of 296,572 and the population density was 67/km².
Romanians make up 95.6% of the population, the largest minority being the Gypsies (4.1%).[2]
| Year | County population[3] |
| --- | --- |
| 1948 | 244,750 |
| 1956 | 274,655 |
| 1966 | 291,373 |
| 1977 | 295,965 |
| 1992 | 306,145 |
| 2002 | 296,572 |
This county has a total area of 4,453 km².
The county is situated in the Bărăgan Plain, all the area is flat crossed by small rivers with small but deep valleys.
Its east border is on Danube and the Ialomița River crosses the county from West to East about the middle. The Danube is split around the Ialomița Pond - the Old Danube branch and the Borcea branch.
Until 1940 (in the West part) and 1967 (in the East part) the county/plain was home of the great bustard (dropie in Romanian), with large populations of this bird. The birds disappeared because of the massive village buildout and hunting them for food.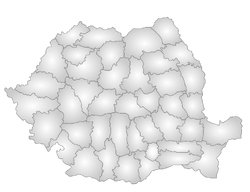 Agriculture is the main occupation in the county. Industry is almost entirely concentrated in the city of Slobozia.
The predominant industries in the county are:
Food industry.
Textile industry.
Mechanical components industry.
The main tourist destinations are:
Ialomiţa County has 3 municipalities, 4 towns and 59 communes
Municipalities
Towns
Communes

Wikimedia Commons has media related to:
Community content is available under
CC-BY-SA
unless otherwise noted.