Iași is a county (judeţ) of Romania, in Moldavia, with the administrative seat at Iași.
As of 1 July 2007, Iași County had a population of 825,100, making it the second most populous county in Romania after Bucharest, with a population density of 150/km².[2]
The population of Iaşi county has nearly doubled over the past sixty years.
This county has a total area of 5,476 km².
The county lies on a plain between the Siret River and the Prut River. Also the Bahlui River (on the banks of which the city of Iaşi lies) and the Jijia River cross the county.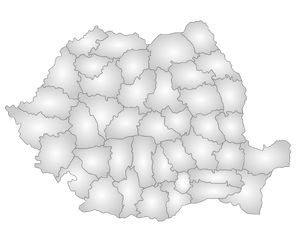 Due to its topography, the county is predominantly agricultural. Industry is concentrated in the cities.
The principal industries in the county are:
* Software industry.
* Chemical industry.
* Pharmaceutical industry.
* Metallurgy and heavy equipment industry.
* Textile industry.
* Food industry.
The city of Iaşi is the most important city in Moldavia and one of the most important cultural centers in Romania. It has the oldest University (1860) in the country, and until the formation of Romania in 1859, it had the same importance as Bucharest.
The main tourist destinations in the county are:
* The city of Iaşi.
** The Palace of Culture.
** The Trei Ierarhi Orthodox church
** The Copou hill.
** The Metropolitan Cathedral, Iași.
* The Ruginoasa Palace.
* The towns of Pașcani, Târgu Frumos and Hârlău.
Iași County has 2 municipalities, 3 towns and 93 communes
*Municipalities
**Iași - capital city; population: 315,214 (as of 2007)
**Pașcani
*Towns
**Hârlău
**Podu Iloaiei
**Târgu Frumos

Community content is available under
CC-BY-SA
unless otherwise noted.