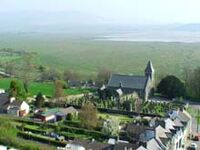 OVERVIEW
[
]
Hetty is identified in White 1902:6 as the daughter of John Walker III and Ann Houston. The only other thing White tells us is that she married a Robert Bell. John III's will makes a bequest to a granddaughter "An (sic) Bell", which is presumably the daughter of Hetty and Robert Bell. John III's will also identifies his "six daughters" though not by name. White 1902:6, on the otherhand lists seven daughters. A plausible explanation of this is that one of the seven daughters predeceased John III.
Hetty has been identified by some as "Catherine Walker" who married Robert Bell, and lived some 30 miles south of Moon Creek where John III owned property. This couple is known to have had a daughter Ann Bell, consistent with John III's will identifying "An Bell" as the daughter of Hetty Walker and Robert Bell. Catherine Bell's father has in fact been identified as a "John Walker" though there were several in the area at the time, and it is not certain that her father was John III. However, many lineages indicate that Catherine Bell died between 1770 and 1772, possibly during childbirth. This would be consistent with John III's identification of six daughters to whom he left inheritance, with the seventh daughter, Hetty Walker Bell, having predeceased him.
Overall, the preponderance of evidence supports the idea that "Hetty Walker" of White 1902, is the same person as "Catherine Walker" who married Robert Bell of Orange County.
Vita
[
]
Born: c. 1739, assuming she was 20 years of age at marriage, and that the marriage occurred in 1759.
Married: Robert Bell c. 1759. This is based on the fact that Catherine had 3 sons and 3 daughters by Robert Bell per the Draper MSC interview with Roberts son Rev. Robert Bell. Assuming a birth interval of 2 years, and that Catherine died in 1772, we get an approximate DOM of 1759. This is consistent with Catherine being Hetty Walker daughter of John III of the Wigton Walker line, per White 1902.
Died: c1772. John III does not mention her in his will which was probably written in 1773, and the fact that Robert Bell remarried in 1774.
Burial:
Ancestry
[
]
Hetty/Catherine is the daughter of John Walker III (c1705-c1776) = Ann Houston (c1705-c1765) of the Wigotn Walker line.
Spouse(s)
[
]
Child List
[
]
Family History
[
]
Alternative Interpretation
[
]
Records
[
]
References
[
]
White, Emma Siggins, 1902. Genealogy of the descendants of John Walker of Wigton, Scotland, with records of a few allied families. Also war records and some fragmentary notes pertaining to the history of Virginia. 1600-1902
Bell, Getha Gina, 1977. The Bells in USA and Allied Families
Links
[
]
NOTES: Hetty Walker (?-c1772)/Notes
Research Needs
[
]
Page Needs
[
]
Contributors
[
]