1855 German Convert to the LDS Church
1861 Dixie Cotton Mission to Southern Utah
Biography
Heinrich C.F. Eyring was born 9 March 1835 in Coburg, Germany to Edward Christian Eyring (1810-1850) and Ferdinandine Charlotte Caroline Von Blomberg (1811-1843) and died 10 February 1902 Colonia Juarez, Casa Grandes, Chihuahua, Mexico of unspecified causes. He married Mary Bommeli (1831-1913) 14 December 1860 in Salt Lake City, Salt Lake County, Utah. He married Deseret Fawcett (1852-1926) 12 August 1872 in Salt Lake City, Salt Lake County, Utah.
Henry Carlos Ferdinand Eyring was an early German immigrant who joined The Church of Jesus Christ of Latter-day Saints while passing through St. Louis. He became a Mormon missionary to the Choctaw, Cherokee and Creek indian tribes in 1855 and was president of the Indian Territory Mission from 1858-1860. Later he was a missionary to Switzerland and Germany and then to Mexico. Afterwards he became an important leader of the church in Colonia Juárez, Chihuahua.
A Priceless Heritage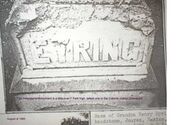 Source: A Priceless Heritage - April 2014 LDS General Conference, by Henry Bennion Eyring (1933-).
His name was Heinrich Eyring. He was born into great wealth. His father, Edward, had a large estate in Coburg, in what is now Germany. His mother was Viscountess Charlotte Von Blomberg. Her father was the keeper of the lands of the king of Prussia. Heinrich was Charlotte and Edward's first son. Charlotte died at the age of 31, after the birth of her third child. Edward died soon thereafter, having lost all his property and wealth in a failed investment. He was only 40 years of age. He left three orphaned children. Heinrich, my great-grandfather, had lost both of his parents and a great worldly inheritance. He was penniless. He recorded in his history that he felt his best hope lay in going to America. Although he had neither family nor friends there, he had a feeling of hope about going to America. He first went to New York City. Later he moved to St. Louis, Missouri. In St. Louis one of his co-workers was a Latter-day Saint. From him he obtained a copy of a pamphlet written by Elder Parley P. Pratt. He read it and then studied every word he could obtain about the Latter-day Saints. He prayed to know if there really were angels that appeared to men, whether there was a living prophet, and whether he had found a true and revealed religion. After two months of careful study and prayer, Heinrich had a dream in which he was told he was to be baptized. A man whose name and priesthood I hold in sacred memory, Elder William Brown, was to perform the ordinance. Heinrich was baptized in a pool of rainwater on March 11, 1855, at 7:30 in the morning.
This person was is listed on the Encampment Mall Memorial - a list of over 300 LDS Pioneer Families that helped to settle St. George, Utah in 1861. They were part of the "Dixie Cotton Mission" called by President Brigham Young to raise cotton and other southern crops in the warmer climate of Washington County, Utah.
Children
Offspring of Heinrich C.F. Eyring and Mary Bommeli (1831-1913)
Name
Birth
Death
Joined with

Henry Elias Eyring (1862-1904)




Mary Louise Eyring (1863-1944)




Bertha Clara Eyring (1865-1866)



Edward Christian Eyring (1868-1957)
27 May 1868 St George, Washington County, Utah, United States
13 April 1957 Mesa, Maricopa County, Arizona, United States
Caroline Cottam Romney (1874-1954) Caroline Cottam Romney (1874-1954) Emma Romney (1884-1957)

Emily Henrietta Eyring (1870-1947)
18 April 1870 St George, Washington County, Utah
18 May 1947 Logan, Cache County, Utah

William Spencer Snow (1867-1892)

 William Spencer Snow (1867-1892) Miles Park Romney (1843-1904)


Ida Elizabeth Eyring (1874-1952)
Offspring of Heinrich C.F. Eyring and

Deseret Fawcett (1852-1926)

Name
Birth
Death
Joined with

George Albert Eyring (1873-1873)




Clara Virginia Eyring (1875-1876)




Anna Margaret Eyring (1877-1950)




Jonathan Elias Eyring (1880-1880)




Wilford Woodruff Eyring (1881-1882)




Andrew Theodore Eyring (1884-1964)



Carl Ferdinand Eyring (1889-1951)
30 August 1889 Colonia Juarez, Chihuahua, Mexico
4 January 1951

Bessie Fern Chipman (1890-1981)




Fernanda Caroline Eyring (1891-1960)
Siblings
Residences
Footnotes (including sources)