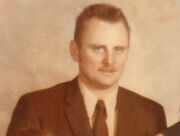 Henry Antone Dahl II (1937-1976) aka Tony Dahl, aka Sonny Dahl. He was a US Navy Fire Control Man. after the war he was a manager at International Business Machines. He died in an auto accident. (b. September 20, 1937, Jersey City, Hudson County, New Jersey, USA - d. August 13, 1976, Saint Joseph's Hospital, Paterson, Passaic County, New Jersey, 07503, USA) Social Security Number 145286478.
He was in a traffic accident on August 4, 1976. It was a rainy night and he was driving home in his Volkswagon Beetle. His car hit the blade of a bulldozer that was parked with the blade facing traffic and raised in the air. He died in the hospital on August 13, 1976.
Paterson News, Paterson, New Jersey, Saturday, August 14, 1976: "West Milford - Henry A. Dahl Jr., 38, of Macopin Road, died Friday morning at St. Joseph's Hospital in Paterson as a result of injuries suffered in an auto accident August 4. Born in Jersey City, he was a resident there before moving to this township four years ago. Mr. Dahl was employed as a field manager at IBM in Newark the past 17 years. A funeral service will be held Sunday at 4 p.m. at Our Saviour Lutheran Church in Pompton Plains. Interment will be Monday in Cedar Heights Cemetery. Surviving are his wife, Lynn; three sons, David, Craig, and Mark, and two daughters, Diana and Toni Lynn, all at home; his mother, Mrs. Edith Dahl of Waymart, PA; and two brothers, Karl of Jersey City, and Edward of Waymart, PA."
Sunday, August 15, 1976, 4:00 pm at Evangelical Lutheran Church of our Savior, Pompton Plains, New Jersey.
Memories about Henry Antone Dahl II
[
edit
|
edit source
]
Thomas Patrick Norton II (1920-2011) said on Saturday, October, 05, 2002: "He was in the Navy and was a Fire Control Man, that was responsible for the electronics that were used to aim and fire the guns. He was so good at it that when he left the Navy, IBM recruited him. He was a service man for the giant IBM computers."
Community content is available under
CC-BY-SA
unless otherwise noted.