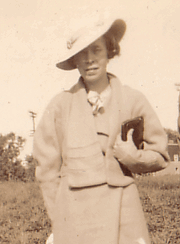 Helene Elizabeth Bentley (1905-1999) Housewife (b. July 04, 1905, New York, USA - d. February 21, 1999, Frostproof, Polk County, Florida, 33843, USA) Social Security Number 145147235.
Helene was born in 1905 to Chester Wesley Bentley (1880-1919) and Bertha Gardner (c1880-c1910). Chester was from Binghamton, Broome County, New York and was born on August 15, 1880.
When Helene was about 4 or 5 years old she was with her mother near a gas fireplace when it exploded. Her mother burned and died.
Her father later remarried.
Around 1928 Helene married Benjamin Van Deusen II (1903-1972), who was a banker.
Helene Van Deusen , 93 Homemaker. Frostproof — Mrs. Helene E. Van Deusen of Frostproof died Sunday (February 21, 1999) at The Groves Center. She was 93. Born in Binghamton, N.Y., on July 4, 1905, she came to Frostproof from Hollywood, Fla., nine years ago. She was a homemaker. She was a member of Emanuel Baptist Church. She was preceded in death by her husband, Benjamin Van Deusen; daughter, Marjorie Richardson. She is survived by her son, Richard Van Deusen, Frostproof; and three grandchildren. Memorial services will he at noon Sunday after church services at the Emanuel Baptist Church. Marton Nelson Funeral Home, Frostproof.
She was buried in Fountainhead Memorial Park, Palm Bay, Florida.
Community content is available under
CC-BY-SA
unless otherwise noted.