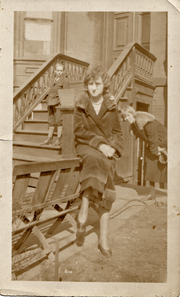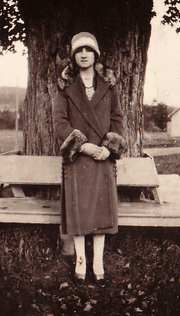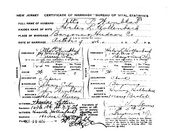 Helen Louise Hollenbach (1905-1928) Died in Childbirth (b. July 26, 1905, Bayonne, Hudson County, New Jersey, USA - d. May 20, 1928, Jersey City Hospital, Jersey City, Hudson County, New Jersey, USA)
Helen was born in 1905
Her siblings include: Henrietta Hollenbach (1902-?); Henry Hollenbach II (1906-1985); Anna Hollenbach (1907); Marie Hollenbach (1911-?); Dorothy Hollenbach (1914-?); and John Gustav Hollenbach I (1915-2004) who married Agnes Mary Hogan (1918- ).
On October 09, 1926 at 3:00 pm she married Otto Perry Winblad (1902-1977) in Jersey City, New Jersey. She was living at 140 Avenue C in Bayonne at the time of the marriage, and her parents were living there since at least 1920. The witnesses for the wedding were Theodore Lattin; and Henriette Hollenbach, Helen's oldest sister. Teddy was the brother of Eva Ariel Lattin who was married to Otto's brother, Anton Julius Winblad II.
Death in childbirth
Edit
Otto and Helen had a child, Geraldine Marie Winblad (1928-2011) on May 14, 1928 and on May 20, 1928, just 6 days later, Helen died of "puerperal sepsis".
She was buried at Bayview Cemetery in Jersey City, New Jersey. She was Lutheran.
Her husband, Otto, married Leah Maria Way (1901-1986) in 1933 in Manhattan.
Community content is available under
CC-BY-SA
unless otherwise noted.