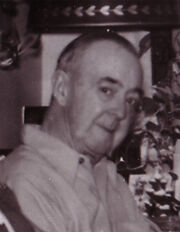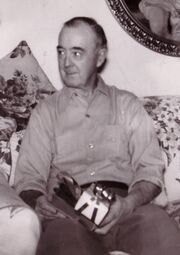 Harry Oliver Olson (1887-1965) Lieutenant in World War I, Street Car Conductor in San Francisco, California and House Painter in Chicago (b. July 27, 1887, 138 Milwaukee Avenue, Chicago, Cook County, Illinois, 60618, USA - d. January 06, 1965, Veterans Administration Research Hospital, Chicago, Cook County, Illinois, 60618, USA) Social Security Number 351076059.
Harry was the second born child of Otto Olson (1858-1921) of Farsund, Norway; and Hannah E. Hansen (1864-1936) of Oslo, Norway. Harry's birth certificate had his name as "Harry Oswald Olsen" and it was formally corrected on April 29, 1939 to "Harry Oliver Olsen". The witness for the correction was his brother Norman who was living at 1548 West Austin Avenue in Chicago at the time.
In 1900 Harry was living with his parents on Milwaukee Avenue and in 1910 he was living at 465 Milwaukee Avenue and appeared in the Chicago City Directory working as a "laborer".
In 1918 he served in World War I in Europe.
When he returned to the US he married Germaine X (1900-1920), a French woman that he met through a friend that served with him in the War.
They moved to San Francisco where he worked as a cablecar motorman. In 1920 he was living with Germaine at 1007 Fillmore Street in San Francisco, California.
Germaine died of tuberculosis in 1920.
In 1930 he was a widower living with his mother, Hannah; and his niece, Hazel Wintrone on Mozart Street in Chicago, and he was working as a house painter.
He died on January 06, 1965 at the Veterans Administration Research Hospital in Chicago.
His funeral noticeappeared in the Chicago Tribune and it read as follows:
Harry O. Olson, Jan. 6, 1965, dear brother of Mrs. Mabel Clay, Norman O. Olson, Mrs. Helen Kirchicoff [sic], and the late Mrs. Tillie Wintrone. Funeral Friday, January 08, 2 p.m., from the Klemundt Funeral Home, 3315 Irving Park Road. Interment Mount Olive Cemetery. Member of Union Labor Post, No. 745, A.L. IR 8-1212.
He was buried in Mount Olive Cemetery in Chicago on January 08, 1965.
Community content is available under
CC-BY-SA
unless otherwise noted.