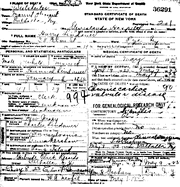 Harry Chauncey Lindauer I (1876-1923) was a clerk at the R.B. and W. Bolt Factory in Port Chester, New York. He died of syphilis. (b. January 08, 1876, New York, USA - d. May 07, 1923, Grassland Hospital, Mount Pleasant, Valhalla, Westchester County, New York, USA)
Harry was born in New York in 1876, although his birth certificate has not been found yet. His father Charles was the son of an immigrant from Strasbourg, Alsace-Lorraine, Germany/France who came to the US on his honeymoon.
His siblings include: Eloise Lindauer II (1861-1935) who was born in Manhattan and married an insurance worker named Maximillian S. Freudenberg I (1858-1921) aka Max Freudenberg; William Lindauer (1866-c1870); Arthur Oscar Lindauer (1867-1944) who was born in New Jersey, remained a bachelor and was a circus trapeze performer and an actor; Ada Lindauer (1868-before1900) aka Adeline Lindauer, who was born in Manhattan and married Charles L. Schoenfeld (c1860-?); Anna Lillian Lindauer (1873-1956) who was born in Manhattan and married Ira Lowe in Rye, New York, and then had 2 children and 3 grandchildren who have not been located yet; and LeBaron Hart Lindauer (1879-1945) who was born in Manhattan and later married Catherine Harney (1878-1966) and had no children.
In 1880 the Lindauers were living at 51 8th Street in Hoboken, Hudson County, New Jersey.
Charles moved the family to Rye, New York around 1900 and may have been involved with a hotel there. His mother Anna was born near Glen Cove or Stony Brook in the Oyster Bay area of Long Island.
Around 1910 Harry married Hannah Cecilia Shea (1884-?). After his death Hannah married John Foran (1887-?) of Ireland. he may be buried in GreenwoodUnion Cemetery.
On September 12, 1918 Harry senior filled out his draft card when he was working as a clerk at R.B. and W. Bolt Factory on Midland Avenue in Port Chester and living at 45 Eldrige Street.
In 1920 Harry was living at 38 Elm Place in neighboring Rye, New York with his family, and his sister Anna Lillian Lindauer, and his brother LeBaron Hart Lindauer, and he was still working as a clerk in the bolt factory.
Harry died in 1923 from "chronic valvular cardiac disease with syphilis". When and where he contracted syphilis, and whether he passed it to his wife is not known.
He was buried in Greenwood Union Cemetery, Rye, New York as are other of his family members.
Community content is available under
CC-BY-SA
unless otherwise noted.