Harriet Amelia Prichard Squires Snow
was born
13 September
1819
in
Aurora City
,
Portage County
,
Ohio
to
Aaron Squire (1791-1881)
and
Elizabeth Prichard (1796-1875)
and died
12 May
1890
in
Brigham City
,
Box Elder County
,
Utah
of unspecified causes. She married
Lorenzo Snow (1814-1901)
17 January 1846 in
Nauvoo
,
Hancock County
,
Illinois
.
Biography
Born in Ohio and married in Nauvoo, Ill, Harriet Amelia Prichard Squires Snow gave birth to her first child at the Mormon refugee camp in Mt Pisgah, Iowa.
Wagon Train to Utah
Harriet traveled west to Utah in 1848 in the large Brigham Young Pioneer Wagon Train with the rest of the Snow family and her infant baby who was not yet 1 year old. Her other children were born in Salt Lake City, Utah.
Brigham City Utah
The 1880 US Federal Census shows her residing at the farm of Lorenzo Snow in Brigham City, Utah with her son Franklin who was working in a local woolen mill.
Marriage & Family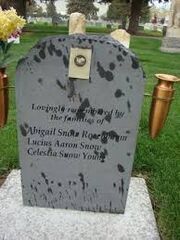 Harriet Amelia Prichard Squires Snow was a plural wife of Lorenzo Snow (1814-1901), 5th President of The Church of Jesus Christ of Latter-day Saints. Both of them were born and raised in Portage County, Ohio.
Abigail Harriet Snow (16 July 1847 – 9 May 1914) - was born on 16 Jul 1847 in Mount Piagah, Pottawattamie, Iowa. She died on 9 May 1914. She was buried on 12 May 1914 in Brigham City, Box Elder, Utah. md Thomas Caldwell
Lucius Aaron Snow (11 December 1849 – 3 October 1921) - md Elizabeth Wilson
Amelia Herrietta Snow (15 February 1854 – 30 October 1854) (Twin / died young)
Alonzo Henry Snow (15 February 1854 – 1 November 1854) (Twin / died young)
Children
Siblings
References
Residences
Footnotes (including sources)
Contributors
Community content is available under
CC-BY-SA
unless otherwise noted.