In human genetics

, Haplogroup B (M60) is a Y-chromosome

haplogroup

.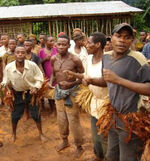 Haplogroup B is localized to sub-Saharan Africa

, especially to tropical forests of West-Central Africa. After Y-haplogroup A, it is the second oldest and one of the most diverse human Y-haplogroups. It was the ancestral haplogroup of modern Pygmies

like e.g. the Baka

and Mbuti

, but also Hadzabe

from Tanzania, who are often mistakenly considered as a remnant of Khoisan people in East Africa.
External links
Phylogenetic tree of human Y-chromosome DNA haplogroups [χ 1][χ 2]
"Y-chromosomal Adam"
A00
A0-T [χ 3]
A0
A1 [χ 4]
A1a
A1b
A1b1
BT
B
CT
DE
CF
D
E
C
F
F1
 F2
 F3
 GHIJK
G
HIJK
IJK
H
IJ
K
I  
J 
   LT [χ 5]
      K2 [χ 6]
L  
  T 
  K2a [χ 7]
       K2b [χ 8] 
   K2c
    K2d
K2e [χ 9]  
K-M2313 [χ 10]
    K2b1 [χ 11]
P [χ 12]
NO  
S [χ 13]
 M [χ 14]   
P1  
  P2
N
O
Q
R

Y-DNA by population
Y-DNA haplogroups of historic people

Footnotes 

^ (2014) "Seeing the wood for the trees: a minimal reference phylogeny for the human Y chromosome". Human Mutation 35 (2): 187–91. DOI:10.1002/humu.22468. PMID 24166809. 
^ International Society of Genetic Genealogy (ISOGG; 2015), Y-DNA Haplogroup Tree 2015. (Access date: 1 February 2015.)
^ Haplogroup A0-T is also known as A-L1085 (and previously as A0'1'2'3'4).
^ Haplogroup A1 is also known as A1'2'3'4.
^ Haplogroup LT (L298/P326) is also known as Haplogroup K1.
^ Between 2002 and 2008, Haplogroup T-M184 was known as "Haplogroup K2". That name has since been re-assigned to K-M526, the sibling of Haplogroup LT.
^ Haplogroup K2a (M2308) and its primary subclade K-M2313 were separated from Haplogroup NO (F549) in 2016. (This followed the publication of: (2016) "Punctuated bursts in human male demography inferred from 1,244 worldwide Y-chromosome sequences". Nature Genetics '48' (6): 593–9. DOI:10.1038/ng.3559. PMID 27111036.  In the past, other haplogroups, including NO (M214) and K2e had also been identified with the name "K2a".
^ Haplogroup K2b (M1221/P331/PF5911) is also known as Haplogroup MPS.
^ Haplogroup K2e (K-M147) was previously known as "Haplogroup X" and "K2a" (but is a sibling subclade of the present K2a).
^ K-M2313*, which as yet has no phylogenetic name, has been documented in two living individuals, who have ethnic ties to India and South East Asia. In addition, K-Y28299, which appears to be a primary branch of K-M2313, has been found in three living individuals from India. See: Poznik op. cit.; YFull YTree v5.08, 2017, "K-M2335", and; PhyloTree, 2017, "Details of the Y-SNP markers included in the minimal Y tree" (Access date of these pages: 9 December 2017)
^ Haplogroup K2b1 (P397/P399) is also known as Haplogroup MS, but has a broader and more complex internal structure.
^ Haplogroup P (P295) is also klnown as K2b2.
^ Haplogroup S, as of 2017, is also known as K2b1a. (Previously the name Haplogroup S was assigned to K2b1a4.)
^ Haplogroup M, as of 2017, is also known as K2b1b. (Previously the name Haplogroup M was assigned to K2b1d.)