Hans Joachim Peters
was born
28 February
1927
in
Lake City
,
Minnesota
,
United States
to
John C. Peters (c1888-)
and
Margaret Tomforde (-)
and died
17 July
2004
at Lake City Hospital in
Lake City
,
Minnesota
,
United States
of unspecified causes. He married
Dorothy Schroeder (Living)
1948 at St. Johns Lutheran Church in
Lake City
,
Minnesota
,
United States
. He married
Cynthia Ann Olson (1948)
28 September 1997 at First Lutheran Church in
Lake City
,
Minnesota
,
United States
.
Residences
Parents
John C. Peters was a builder and raised his sons in the trade. He immigrated in 1909.
Siblings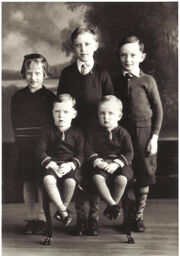 John and Margaret had five children, of which Hans was the oldest.
Marriage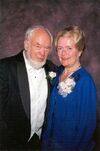 Hans was married twice. His first marriage ended in divorce, and with three children. His second marriage was made official in 1997, but he and Cindy had been together since 1979.
Children
John, Amy and Mark were raised by their mother after she and Hans divorced. He raised Cindy's two children as his own from 1979, when they were ages five and seven.
Military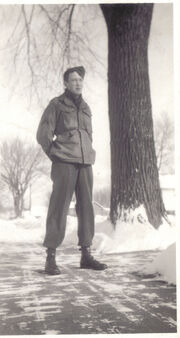 He joined the army in December of 1945. He spent time in occupied Germany from 1946 and 1947. He was discharges as a Corporal.
Occupations
After leaving the service Hans worked in a logging camp in Oregon, then returned to Minnesota to attend college at the University of Minnesota. After college he worked briefly for the Minneapolis Police Department before moving back to Lake City where he worked for a remodeling company, then started his own construction company as a builder and developer, Hans Peters Construction.
He was a member of the Lake City Common Council.
Death
Hans battled for many years with Parkinson's disease.
Memories about Hans Peters
Sailing Hans loved to sail on Lake Pepin. He owned a sailboat which had previously been owned by a professional sailor, Gerry Spiece. The green and yellow boat was called the Stuffed Olive. Hans would take Cindy and her kids out sailing often. A favorite trick was to cross behind barges and ride over the large wake.
Scar There was a scar that ran about six inches along Hans' bicep. It was old and had widened and the stitching had colored over the years. It was a memento from a day he was working with his father as a young man. John and at least a couple of his sons were building a barn on Bremer farmstead just outside of Lake City. He feel from the roof or the barn down to the hard ground, breaking the arm. His bone spike split the skin and jutted from the arm until he was able to get to a place for a doctor to set it and sew it up.
Gallery
Footnotes (including sources)
| | |
| --- | --- |
| Ω Birth | |
| | |
| --- | --- |
| ₪ Wedding | |
| | |
| --- | --- |
| ₪2 Wedding 2 | Minnesota Marriage Collection, 1958-2001 |
Contributors