Greaf "Grief" Irby was born 1762 in Laurens County, South Carolina to Joseph Lafayette Irby (1728-1781) and Mary Francis Carter (1736-1798) and died 19 November 1781 Hayes Station, Laurens County, South Carolina of unspecified causes.
Biography
American Revolutionary War Service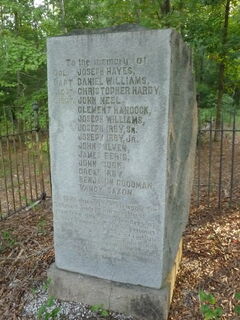 Battle of Hayes Station is where on 19 Nov 1781, during the American Revolutionary War , Major William "Bloody Bill" Cunningham and a large force of Loyalist militia attacked a group of Patriot militia that were resting in the home of their commander, Colonel Joseph Hayes. The Patriots surrendered when the home was set on fire. "Bloody Bill" then lived up to his name by killing many of the prisoners in cold blood.
Greaf Irby died here along with his father and one brother, Joseph. Another brother survived.
Siblings
Vital Records
References
See Also
Joseph Irby

- disambiguation

Irby in Laurens County, South Carolina
Residences
Footnotes (including sources)