Sir Gilbert II de Southworth was born circa 1300 in Southworth, Lancashire, England to Gilbert I de Southworth (c1270-1350) and Cicely de Salisbury (c1280-1300) and died 1363 Samlesbury Hall, Samlesbury, Lancashire, England of unspecified causes. He married Alicia de Ewyas (1304-1363) 1320 JL in Lancashire, England.
Biography
Samlesbury Hall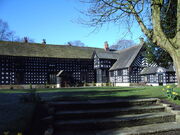 Samlesbury Hall, principal residence of the Southworth Family for much of the 14th-17th centuries, is a manor house built in 1325 which has been many things since then including a public house and girls' boarding school, but since 1925, when it was saved from being demolished for its timber, it has been administered by a registered charitable trust, the Samlesbury Hall Trust. This Grade I listed medieval manor house attracts over 50,000 visitors each year.
Gilbert II de Southworth acquired half ownership in Samlesbury Hall through his marriage to Alicia de Ewyas (1304-1363). The manor home had been burned badly by Scots in a raid of Richard the Bruce in 1322. In 1325, Gilbert II built the great manor hall that is found here today.
Children
Siblings
Vital Records
Titles: High Sheriff of Lancashire, 1323-1326. List of High Sheriffs of Lancashire - Wikipedia
The Visitation of Lancashire by William Flower, 1567, show John Devyas, of Yorkshire married to the daughter and one of the heires of Wir William Samlesbury of Samlesbury, Lancashire, Knight. They are shown as having a son anmed Nicholas Devyas who has a daughter, the sole heir who marries Gilbert Sowthworthe of Southworthe. (Southworth) Source: Visitation of Lancashire by William Flower, 1567, pg. 26
Sir Gilbert de Southworth who married sometime before 1332 to Alicia d'Ewyas. He was living in 1334 and his wife Alicia was living in 1363. Through Alicia d'Eways, Sir Gilbert became the lord of Samlesbury. Source: The Genealogy of the Southworths, pg. 405
In 1326, the manor of Southworth was confirmed to the elder Gilbert for his life with the remainder to Gilbert, son of Gilbert, and his heirs by Alicia, his wife. The manor of Samlesbury did not pass to Sir Gilbert and Alicia until after 1325/26. In that year Nich'us Deuyas is recorded as Lord of Samlesbury and Gilbertus Sotheworth as lord of Sotheworth manor. Source: The Genealogy of the Southworths, p. 407
Residences
Footnotes (including sources)