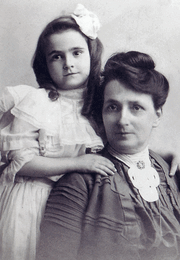 Georgiana Marie Reynolds (1854-1940) Housewife (b. September 30, 1854, Vermont, USA - d. December 17, 1940, 12:15 pm, Francis Schervier Nursing Home, Riverdale, Bronx County, New York City, New York, USA)
Georgiana was the daughter of Thomas Reynolds of New York City.
Georgiana married Thomas Francis O'Malley (1854-1918) in 1875. Thomas was a letter carrier and later a Brooklyn post office inspector.
In 1880 Georgiana and Thomas appear in the 1880 census of the United States living in Manhattan as "Thos. F. O'Maley" and "Georgina O'Maley". In 1918 the family was living at 350 Parkside Avenue, Brooklyn, Kings County, New York.
In 1918 her husband died, and in 1920 she was living as a widow at 350 Parkside Avenue in Brooklyn, New York. She was living with her children: Frank, Agnes, Estelle, and Kathryn.
In 1938 Georgiana was placed in the care of the Francis Schervier Nursing Home until her death.
She died in 1940 of "coronary thrombosis with lobar pneumonia" at the nursing home.
She was buried on December 20, 1940 in the Cemetery of the Holy Cross in the Flatbush section of Brooklyn in Plot 17, Range 10, in the "Front of Chapel Section".
Community content is available under
CC-BY-SA
unless otherwise noted.