George Stoneman, Sr.
was born
9 January
1799
in
New Berlin
,
Chenango County
,
New York
to
Richard Stoneman (1760-1821)
and
Mary Perkins (1776-1855)
and died
6 August
1877
in
Busti
,
Chautauqua County
,
New York
of unspecified causes.
Biography
George Stoneman, Sr. - Son of Richard Stoneman, of Torrington, Devon, England, and Mary Perkins, of Foster, Providence, Rhode Island. His parents had been married 31 December 1797, in New Berlin, Chenago county, New York. He was the eldest child of their 10 children, born 9 January 1799, in New Berlin, Chenango county, New York.
He was named after his Uncle George, a Lieutenant in the British Navy, under Rear Admiral Sir Horatio Nelson, and had been killed at the battle of the Nile, which took place from 1 to 3 August 1798, in Aboukir Bay near Alexandria, Egypt. George lived his entire life in the State of New York, in New Berlin, Ellerly, Jamestown and Busti. He was a farmer, a prominent lumberman, and Justice of the Peace. He was considered by some to be eccentric, when he built a saw mill without a close source of water, and again, when he constructed a horse-boat upon two huge dug out canoes.
Burial Site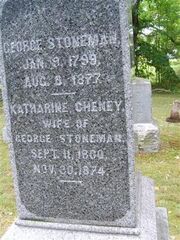 George Stoneman, Sr., died on 6 August 1877, in Busti, Chautauqua county, New York. Interment was in the Stoneman family plot, at Bentley Cemetery in Lakewood, Chautauqua County, New York.
George Stoneman Sr. and wife Catherine Rebecca Cheney share a family monument here with son General Gov. George Stoneman Jr.
Marriage & Family
He married Catherine Rebecca Cheney, on 22 July 1821. They were both of English descent. The Stoneman's were early settlers of Chenango county, New York, and the Cheney's were an early Rhode Island family. He and his wife were blessed with eight extraordinary children. They had four sons and four daughters. T
George Stoneman (1822-1894) - US Army Officer, 1846 graduate of West Point, Quartermaster of The Mormon Battalion, Distinguished Union Cavalry Officer in the Civil War, 15th Governor of California.
Richard Stoneman (1825-1850)
Byron Stoneman (1828-1892) - Born in Ellery in 1828. Md. Mary Martin and settled in Busti. His children: Julis md William H. Long; Ruth Md Alton Sherman; Clara md. Gilbert Harris; and Bertha and Mariam
John Thompson Stoneman (1831-1905) - Md. Benjamin H. Williams
Mary Jane Stoneman (1837-1908) - Md. Benjamin H. Williams
Katherine Stoneman (1841-1925) - (Kate Stoneman) - never married - of Albany, NY First Female Lawyer in NY
Charlotte Angeline Stoneman (1844-1903) -
Children
Siblings
Residences
Footnotes (including sources)
Contributors
Community content is available under
CC-BY-SA
unless otherwise noted.