Biography
George Martin was born 1618 in Romsey, Hampshire, England and died 23 November 1686 Salisbury, Essex County, Massachusetts of unspecified causes. He married Hannah Unknown Martin (1622-1646) 1643 in Essex County, Massachusetts. He married Susannah North (1621-1692) 11 August 1648 in Salisbury, Essex County, Massachusetts.

Book shows two Ramseys, one in Huntingdon and the other in Essex. He died in 1686 at Salisbury, Essex County, Massachusetts. He signed a will on 23 NOV 1686 in Amesbury, Essex County, Massachusetts. November 23, 1686.
English Migrant to America
George Martin came from England to New England as a servant to Samuel Winsley about 1639. He learned and practiced the blacksmith trade.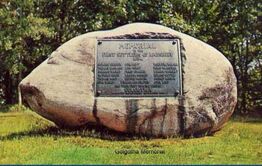 In 1640, the first Puritan settlers arrived to Amesbury, Massachusetts; their first burying ground was on a hill overlooking the Powow River, now referred to as Golgotha. The grave stones or markers in this first burying ground have long since disappeared, along with the identity of the people buried here. In 1903, the Amesbury Founders Memorial was erected by the Amesbury Improvement Association, to mark the site of Amesbury's first burying ground. This person is listed there.
George was one of the earliest pioneers in Amesbury.
fined for cutting trees there in 1645.
He took the oath of fidelity in 1646.
He was very active in land dealing.
In 1649, he bought 10 acres from Thomas Macy on the Powow River, and lived there about 5 years.
He then removed a short distance to the farm which he had bought of Anthony Saddler in 1650, also on the Powow.
He sold his original farm to Philip Challis Feb 11, 1651.
He sold his second farm to Richard Currier in 1660 and removed to the west side of Ring's Hill, where he lived until his death.
Amesbury Church
A general meeting was held Jul 9, 1667 for the purpose of seating the people in the new church. "Good Wiffe Martyn do enter his contry desent to the plasen of his wiffe in that seat." (The seating in the church was very important in those days).
In April 1669, George Martin sued William Sargent Jr. "For saying that his son Gorge Marttin was a bastard and that Richard Marttin was Goodwife Marttin's imp".
In October 1669, George Martin's son Richard was presented by the grand jury at the Salisbury Court for abusing his father and throwing him down, taking away his clothes and holding up an axe against him.
Six year after George died, his wife Susannah North (1621-1692) was wrongfully accused and executed at the Salem witch trials.
Marriage and Family
Susannah North
Spouse: Susanna NORTH. George MARTIN and Susanna NORTH were married on 11 MAR 1646 in Salisbury, Essex County, Massachusetts. Children were: Richard MARTIN, George MARTIN, John MARTIN, Esther MARTIN, Jane MARTIN, Abigail MARTIN, William MARTIN, Samuel MARTIN.
Children
Offspring of George Martin and

Hannah Unknown Martin (1622-1646)

Name
Birth
Death
Joined with

Hannah Martin (1644-1730)
Siblings
Residences
See Also
George Martin

George Martin, Sr - GENI.com
The Old Families of Salisbury and Amesbury, Massachusetts (1982) David W. Hoyt;
History of Amesbury (1880) Joseph Merrill;
(3) Salisbury Vital Records.
Footnotes (including sources)