Biography
George Hamilton Robinette was born 3 October 1844 in Flintstone, Alleghany County, Maryland, United States to Moses Johnson Robinett (1819-1903) and Jane Elizabeth Humphrey (1824-1865) and died 2 April 1914 Baltimore City, Baltimore County, Maryland, United States of unspecified causes. He married Anna Brenneman (1851-1882) 22 December 1870 in Taylor County, West Virginia. He married Mary Ann Hanafre (1862-1930) 25 February 1884 in Salem, Harrison County, West Virginia.
U.S. Civil War Veteran
George H. Robinette served in the Union Army during the American Civil War as a private in Company "B" 17th Regiment, West Virginia Infantry. He enlisted on Aug 19, 1864 in Grafton, West Virginia and mustered in on Aug 31, 1864. He mustered out on June 30, 1865.[1]
Children
Offspring of George Hamilton Robinette and Anna Brenneman (1851-1882)
Name
Birth
Death
Joined with

Ella Robinette (1869-)




George Robinette (1873-)




Alice Robinette (1875-)




John Hamilton Robinette (1876-1937)
Siblings
Residences
Vital Records
Obituary
Obituary From The Baltimore Sun, 5 Apr 1914, page 4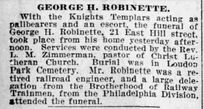 Gravestone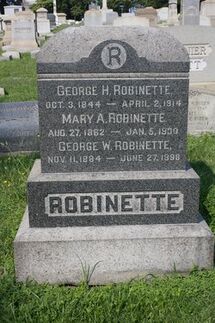 See Also
References
^

Source - Fold3.com, Compiled Service Records of Volunteer Union Soldiers Who Served in Organizations from the State of West Virginia. State: West Virginia, Roll: 0229. Online Image
Footnotes (including sources)